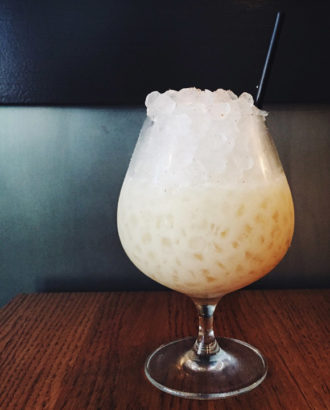 In addition to an extensive selection of hard cider from around the world, New York's newest cider bar Wassail showcases a playful menu of house cocktails that incorporate apples in their many forms. This tropical concoction is the perfect late-summer drink, thanks to a double hit of oaky vanilla flavors from the aged whiskey and brandy, paired with bright pops of coconut and pineapple.
1 oz. rye whiskey
1 oz. Calvados (Jade likes Montreuil)
1 oz. pineapple syrup
2 oz. coconut syrup
Tools: shaker, strainer
Glass: snifter
Garnish: grated nutmeg
Combine all ingredients in a shaker with ice. Shake briefly. Strain over crushed ice. Garnish.
Coconut Syrup: Combine 2 parts coconut milk to 1 part demerara syrup in a blender. Blend until emulsified. Strain into a jar and chill.
Jade Sotack, Wassail, New York