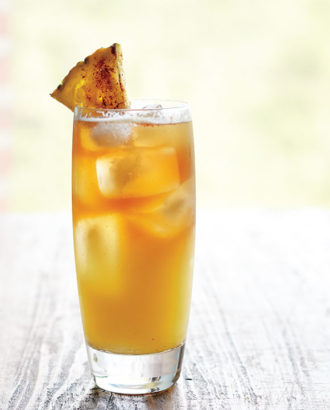 A tropical riff on the Michelada combines pineapple with tequila and a healthy glug of Mexican beer.
1 oz. blanco tequila
1½ oz. pineapple purée
1 oz. fresh lime juice
½ oz. Mexican spiced syrup
2 dashes green habanero hot sauce
3 oz. Mexican beer (such as Negra Modelo)
Tools: shaker, strainer
Glass: collins
Garnish: chile-dusted pineapple wedge
Add all ingredients except the beer to a shaker. Add ice and shake. Strain into a tall glass with fresh ice. Float the beer on top; garnish.
Mexican Spiced Syrup
1 quart simple syrup (16 ounces sugar to 2 cups water)
1 stick Mexican cinnamon
1 whole nutmeg
1 [2-inch] piece fresh ginger root, peeled and chopped
3 whole star anise
2 Tbsp. allspice
2Tbsp. coarsely ground black peppercorns
2 whole cloves
Add the simple syrup to a saucepan. Bring to a boil. Add remaining ingredients, reduce heat and simmer for 20 minutes. Allow to cool to room temperature, strain and refrigerate for up to 7 days. Makes 1 quart.
Recipe and photo from The Tippling Bros. A Lime and a Shaker by Tad Carducci and Paul Tanguay. Copyright © 2015 by Tippling Bros. LLC. Photography by Lauren Volo. Reprinted by permission of Houghton Mifflin Harcourt Publishing Company. All rights reserved.