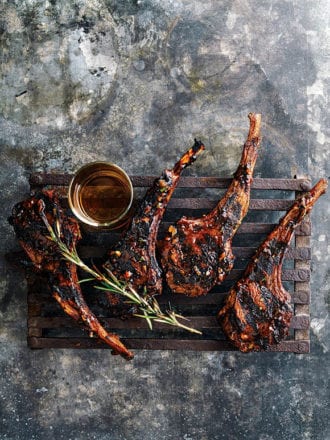 After immigrating to Chicago from Seoul, South Korea, at age 7, chef Bill Kim watched as his family's traditions converged with the culture of his adopted home. "We were doing the most American thing, setting up grills, playing games, chasing one another and cooking food, but our food was Korean," says Kim in his first cookbook out in April. His spring-ready lamb chops likewise draw from both North America and South Korea, seasoned with rosemary and garlic along with hoisin and sesame, all balanced with brandy (which also accelerates the marinating process). Not into lamb? Kim says this marinade also works beautifully with steaks.
½ cup Soy Balsamic Sauce (recipe below)
½ cup brandy
¼ cup hoisin
¼ cup toasted sesame oil
¼ cup loosely packed fresh rosemary leaves, chopped
12 small cloves garlic, minced
16 lamb loin chops, about 1 inch thick
Soy Balsamic Sauce
Makes 1 cup
1 tsp. cornstarch, or as needed
2 Tbsp. water
¼ cup dark brown sugar, firmly packed
½ cup balsamic vinegar
½ cup soy sauce
To make the Soy Balsamic Sauce, in a small bowl stir together the cornstarch and water until the cornstarch dissolves and the mixture has the consistency of heavy cream, adding more cornstarch if the mixture is too thin.
Combine the brown sugar, vinegar and soy sauce in a small saucepan and bring to a boil over medium heat, stirring to dissolve the sugar. Stir the cornstarch mixture briefly to recombine, then add it to the soy-vinegar mixture and simmer over low heat for about 3 minutes, until the sauce thickens enough to coat the back of a spoon. Remove the sauce from the heat and let it cool completely. Set aside ½ cup of the sauce and refrigerate the remainder in a sealable container.
To make the marinade, combine the Soy Balsamic Sauce, brandy, hoisin, sesame oil, rosemary and garlic in a small bowl and mix well. Measure out ¼ cup of the marinade and reserve it for basting the meat on the grill.
Place the lamb chops in a large, shallow dish. Spoon the remaining marinade over the chops and turn the chops to coat evenly. Marinate at room temperature for 1 hour.
Heat a grill to medium (350°F to 375°F). Once the grill is hot, place the chops on the grill over the flames and cook for 3 minutes. Brush or lightly spoon some of the reserved marinade on the lamb, turn them over, and brush or lightly spoon marinade on the second side. Cook the chops for about 3 minutes longer, until lightly charred on each side.
Transfer the lamb to a serving platter and let rest for 4 minutes, then serve.
Serves 4.
Reprinted with permission from KOREAN BBQ by Bill Kim and Chandra Ram, copyright 2018. Published by Ten Speed Press, an imprint of Penguin Random House.

---
Did you enjoy this recipe? Sign up for our newsletter and get our favorite drink recipes of the moment in your inbox every month.