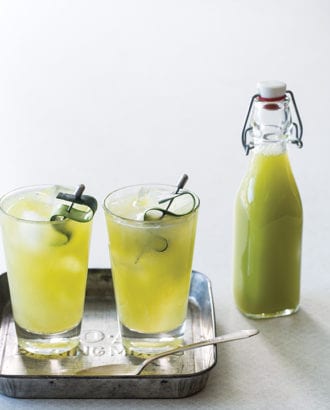 Late-summer and early-autumn celery and cucumber make for seriously refreshing, slightly savory drinks. Benjamin Schiller of Chicago's Fifty/50 Restaurant Group, which includes Homestead on the Roof, keeps it simple with the addition of bitter lemon for his Driver Cocktail #3—the name referencing the European term for drinks mixed for the designated driver.
For a version with alcohol, try adding tequila or vodka.
3 oz. celery-cucumber water
Fever-Tree Bitter Lemon soda, chilled
Glass: Collins
Garnish: cucumber wheel or ribbon
Fill a glass with ice and add celery-cucumber water. top with chilled soda, then garnish.
Celery-Cucumber Water
8 stalks celery
½ cucumber, peeled
1 sprig mint
½ oz. fresh lemon juice
1 pinch of salt
Run the celery, cucumber and mint through an electric juicer and strain the liquid (or purée in a blender and pour through a cheesecloth-lined strainer). Add the salt and lemon juice and store in an airtight container. Keep refrigerated, and use within 3 to 4 days.
Benjamin Schiller, Homestead on the Roof, Chicago