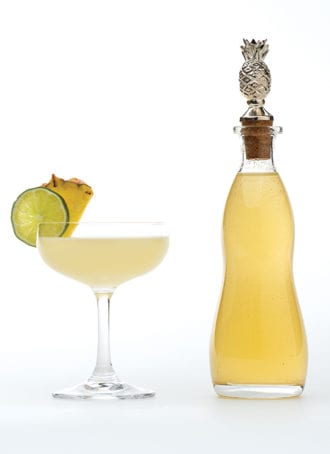 Beach-inspired rums are among our favorite summer sips, and this season, we're drinking a DIY version that fuses the flavors of toasted coconut and fresh pineapple into a spirit that's primed for warm-weather mixing. The applications are endless—swap for regular rum to make an ultra-delicious Piña Colada, mix with coconut water and fresh fruit and freeze into slushies or popsicles, or mix it into a simple Daiquiri for endless refreshment.
2 cups white rum
⅓ cup dried, shredded unsweetened coconut
1 whole, fresh, ripe pineapple
Tools
1-quart jar with lid
Measuring cups
Small skillet
Wooden spoon
Sharp knife
Muddler
Cheesecloth Funnel
Clean jar or bottle
In a small skillet over medium heat, toast the coconut until it's light brown, stirring to ensure an even toast. (Alternatively, toast the coconut on a foil-lined tray in a toaster oven.)
In a jar, combine the rum and the warm, toasted coconut. Shake and let sit overnight. Peel and core the pineapple and chop it into ½-inch cubes. Add the cubes to the jar with the rum mixture until almost completely full; save the remaining pineapple for another use. Gently muddle the pineapple into the mixture, then secure the lid and shake to combine. Let the mixture sit overnight, shaking occasionally. Strain the mixture into a clean container through a funnel lined with a double-layer of cheesecloth. Cap and use within 1 month.
---
Did you enjoy this recipe? Sign up for our newsletter and get weekly recipes and articles in your inbox.