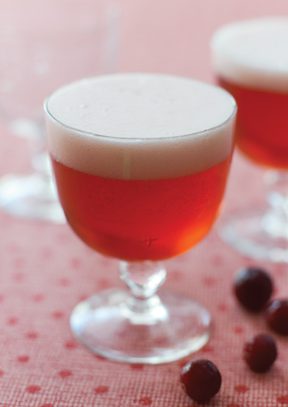 A bubbly bottle of cranberry-apple cider gains delicious complexity from a zingy ginger shrub and warming cinnamon syrup. Best of all, it's a snap to make.
25 fresh cranberries (about ⅓ cup)
2 ½ oz. Tait Farm Foods ginger shrub
2 ½ oz. cinnamon syrup
750 ml. cranberry-apple sparkling cider, chilled ice block
Tools: shaker, muddler, fine-mesh strainer
Glass: punch
Muddle cranberries in a shaker. Add shrub and syrup and shake with ice cubes. Place ice block in a punch bowl. Double strain cranberry mixture over ice block and add cider, stirring to combine without deflating bubbles. Float fresh cranberries in punch and serve.