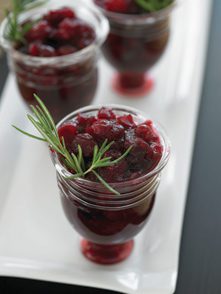 In between roasting the turkey, baking the pumpkin pie and entertaining holiday guests, it's easy to think of bypassing homemade cranberry sauce. Not anymore: This easy recipe from Diane Morgan's The Christmas Table takes cranberry relish to the next level with a boost of beer. Sweet and tart with a hint of spice, it's the perfect match for a holiday turkey or goose, and to make life easier, you can make it ahead.
1 12-oz. bottle Lindeman's Framboise Lambic
1 12-oz. package fresh or frozen cranberries, washed and de-stemmed
¼ cup finely diced crystallized ginger
¼ cup sugar
In a deep, 4-quart saucepan over medium-high heat, bring the beer to a boil. Add cranberries, ginger and sugar. Adjust heat so the mixture simmers, and stir to dissolve the sugar. Cook, stirring occasionally, until the cranberries begin to pop open, about 10 minutes. Remove from heat and let cool to room temperature.
Transfer the cooled relish to a bowl, cover and refrigerate until serving. (The relish will keep, tightly covered, in the refrigerator for up to 10 days.) Makes 2 ¼ cups.