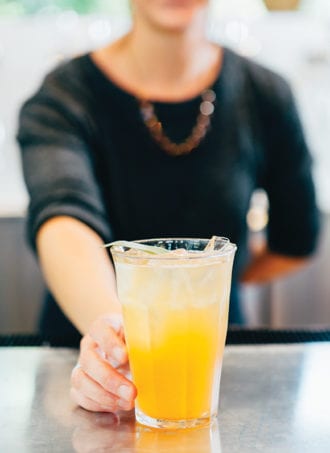 Apples, pears and almost any other fresh produce in season finds its way into shrubs at the Fermentation Bar at SHED. For a delicious alcohol-free drink, pour one ounce of this apple shrub in an ice-filled glass and top with chilled soda water. And read more about SHED in the September/October 2016 issue feature on Healdsburg's drinking scene.
3 lbs. crab apples
2 quarts apple cider vinegar
2 quarts organic cane sugar
2 vanilla pods
2 whole star anise
Cut the crab apples into chunks, retaining the core, seeds and skin. Use a sharp knife to split and scrape the inside of the vanilla pods, then combine all the ingredients in a large saucepan over medium heat. Bring almost to a boil, then remove from the heat and let cool to room temperature. Cover and chill for at least 24 hours, and up to 1 week. Strain and discard the solids; keep the liquid refrigerated for up to 1 month in a closed container.
Cindy Daniel, Fermentation Bar at SHED, Healdsburg