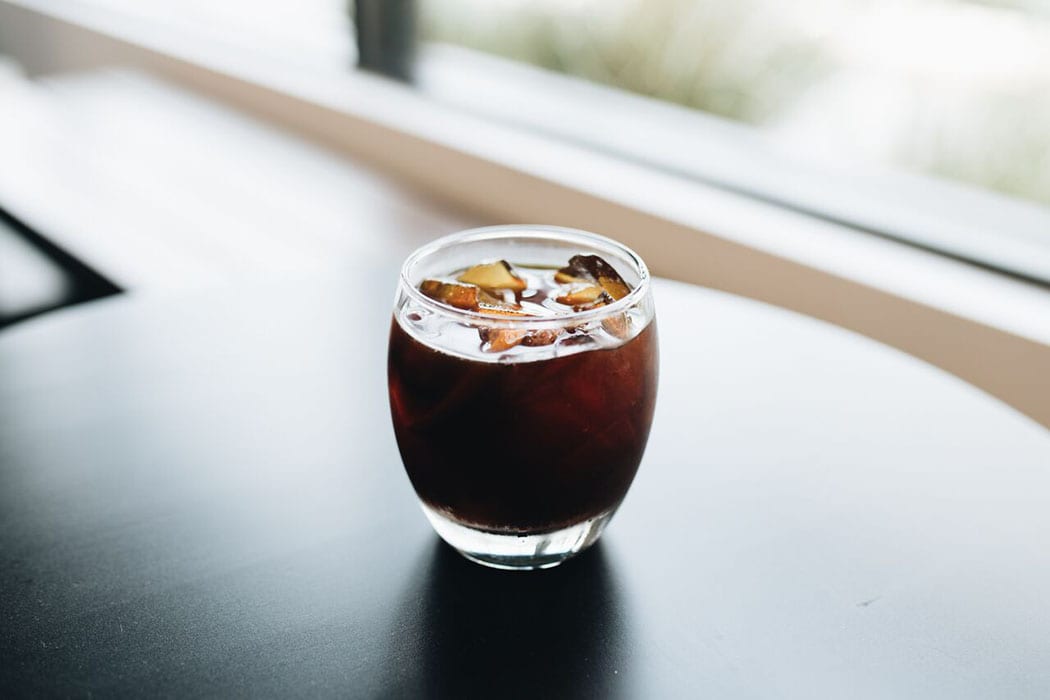 Inspired by classic sangria, Commodity Coffee owner Alan Gomez created this alcohol-free version by infusing orange, strawberries and grapes into a batch of cold-brew coffee. Gomez says the recipe is "very forgiving," so feel free to adjust the amounts (or types) of fruit.
1 lb. ground coffee
1 gallon water
1 whole orange, peeled and cut into segments
1 handful fresh strawberries
1 handful fresh red grapes
Simple syrup (1:1), to taste
Tools: toddy iced coffee brewer, large pitcher, zester, knife, cutting board
Glass: rocks
Garnish: orange slices, strawberries and grapes
Start by brewing about a gallon of cold-brew coffee. Combine the coffee and water in the Toddy (or whichever brew method suits you) and let sit for 10-12 hours. Strain the coffee through the filter and decant into a jug. Set aside.
When the coffee is strained and ready, zest the orange into the batch, then add all the fruit into the finished coffee and give it a stir. Let it sit for about 4-6 hours, then strain the coffee and discard the fruit. Taste, then add simple syrup to taste.
Alan Gomez, Commodity Coffee, Long Beach, California 
---
Did you enjoy this recipe? Sign up for our newsletter and get our favorite drink recipes of the moment in your inbox every month.