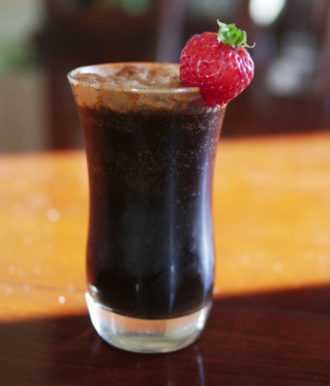 This chocolate soda from Darcy O'Neil, author of Fix the Pumps, is simultaneously decadent and refreshing, thanks to an added pop of acid phosphate.
1 tsp. acid phosphate (see note)
8 oz. club soda
2 oz. chocolate syrup (see below)
Tools: barspoon
Glass: highball
Garnish: fresh strawberry, optional
Pour the acid phosphate and the soda water into a chilled glass and slowly add the chocolate syrup to avoid spilling over. Stir gently to combine and garnish.
For the chocolate syrup:
30 g. unsweetened cocoa powder
3 cups sugar
2 cups water
¾  tsp. vanilla extract
½ drop cinnamon oil
Combine cocoa powder, sugar and water in a large saucepan and bring to a boil over medium-high heat, while stirring. Continue stirring and let boil for three minutes. Let cool to room temperature, then add vanilla and cinnamon oil. Stir to combine and funnel into a clean glass jar. Keep refrigerated and use within one month.
NOTE: An old-timey soda fountain favorite, acid phosphate had until recently all-but disappeared from the market, but thanks to a modern revival you can purchase the potently tart and tangy potion online at artofdrink.com.
Darcy O'Neil, artofdrink.com