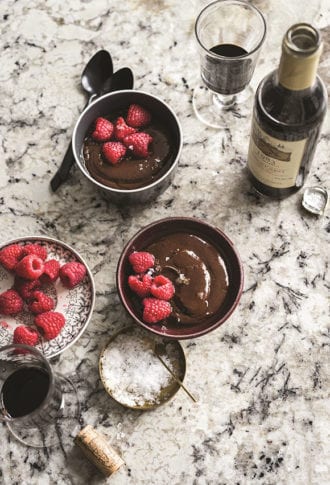 At Cúrate in Asheville, North Carolina, the menu features a warm chocolate mousse made by preparing ganache and egg whites using an immersion circulator. For an at-home version, Katie Button makes an Italian sabayón (traditionally a light custard made from egg yolks, sugar and sweet white wine) and ups the ante with bittersweet chocolate and brandy. "Even though chocolate's always delicious on its own, it's even better when whipped with brandy," says Button. "The final topping of tart raspberries with salt and olive oil transforms the dish into a restaurant-worthy dessert."
6 large egg yolks
½ cup granulated sugar
¼ cup brandy
2 Tbsp. unsweetened cocoa powder
2 oz. bittersweet chocolate, preferably
60 percent cacao, finely chopped
Raspberries, Maldon sea salt and extra virgin olive oil, for serving
Whisk the egg yolks and sugar in a medium heatproof bowl until pale yellow. Whisk in the brandy, cocoa powder and ½ cup of water until smooth. Set the bowl over a saucepan of simmering water and whisk continuously until thick and an instant-read thermometer registers 165 degrees F, about 12 minutes. Remove from the heat and whisk in the chopped chocolate until smooth. Divide among serving dishes and top with raspberries. Sprinkle with salt, drizzle with oil and serve immediately. Serves 6 to 8.
Reprinted with permission from Cúrate: Authentic Spanish Food from an American Kitchen, copyright 2016 by Katie Button with Genevieve Ko. Flatiron Books.
---
Like what you see? Get more of the best of liquid culture when you sign up for our bi-monthly magazine. Subscribe now and save up to 59%—it's just $21.95 for one year or $32.95 for two years. Click here for details.