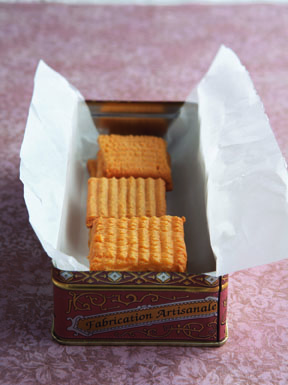 From coffee tables to cocktail parties, cheese straws are a ubiquitous southern snack, and this buttery batch from famed southern chef, Virginia Willis is named for her grandfather, Dede, and the family recipe she recalls from her childhood.
1 ½ cups all-purpose flour
½ tsp. fine sea salt
Pinch cayenne pepper, or to taste
½ lb. sharp cheddar cheese, at room temperature, freshly grated
½ cup (1 stick) unsalted butter, at room temperature
Position the oven racks in the top and bottom thirds of the oven. Preheat the oven to 375 degrees F. Butter 2 baking sheets.
To make the dough, in a small bowl, combine the flour, salt and cayenne. Set aside. In a heavy-duty mixer fitted with the paddle, cream the cheese and butter on medium speed until smooth and well combined. Gradually add the flour mixture. Mix on low speed until smooth. (The dough can also be made in the bowl of a large food processor: grate the cheese with the grating blade, then transfer the cheese to a bowl and insert the metal blade. Pulse the dry ingredients to combine, then add the butter and cheese. Process until smooth.) Cover the bowl with plastic wrap and set aside to rest for about 15 minutes.
To shape the dough, work it in your hands; it should be soft and pliable (like Play-Doh). Shape the dough into a cylinder and pack it into a cookie press fitted with the serrated ribbon disk.
Holding the cookie press at an angle to one of the prepared baking sheets, press the trigger twice, dragging the press away to make a long straw the length of the baking sheet, spacing the ribbons of dough 1 inch apart. Using a butter knife or offset spatula, cut each ribbon into 1- to 2-inch pieces. Repeat with the remaining dough and the other baking sheet. (If the cookie press extrudes the dough in fits and spurts, simply pick up the dough and reuse.)
Bake the cheese straws, rotating the baking sheet once, until lightly browned on the edges, about 20 minutes. Remove the baking sheet to a rack to cool slightly. Using an offset or slotted spatula, remove the individual cheese straws to cool completely. Store at room temperature in an airtight container between sheets of waxed paper for up to 2 to 3 weeks.
Makes about 6 dozen.
Adapted from Bon Appetit, Y'all: Recipes and Stories from Three Generations of Southern Cooking (Ten Speed Press, 2008) by Virginia Willis