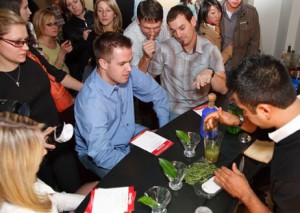 The 2009 DRAMBUIE® Den Bartender Showcase is heading to the Pacific Northwest, with the latest competition and party set to take place November 9 and 10 in Portland, Oregon. Once again, talented bartenders from across the city will go head to head to craft a winning DRAMBUIE cocktail, and the winner will go on to compete in a national competition for the grand prize of a trip to the 2010 Tales of the Cocktail festival.
The DRAMBUIE Den competitions and parties are always a great time and a fun opportunity to sample competing bartenders' delicious cocktails and even vote for your favorites. Each cocktail will also be evaluated by a panel of industry judges considering presentation, flavor and creativity. Imbibe will be on hand to help judge, and we can't wait to see who comes out on top.
So if you're in the Portland area on November 9 and 10, be sure to RSVP and join the pursuit to find some of America's most exciting undiscovered bartenders. Click here to RSVP for this event (space is limited, so be sure to RSVP before tickets are gone) and to see a list of other upcoming dates, cities and locations. Entry is free, but you must be 21 years or older to attend. And to learn more about DRAMBUIE cocktails and events, visit PursuitOf1745.com
We hope to see you there!