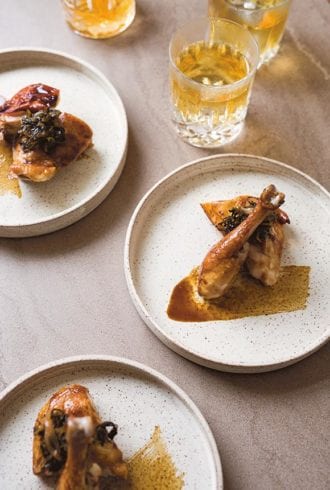 Multnomah Whiskey Library chef Ben Grossmann tapped into the bar's impressive arsenal of whiskey to create this delicious (and easy) bourbon-molasses glaze. Slather some on your next brined chicken, pork chops or tenderloin and serve with your favorite side dish.
Juniper brine
8 cups water
¼ cup packed brown sugar
½ cup kosher salt
1 Tbsp. whole black peppercorns
1 Tbsp. whole juniper berries, lightly crushed
2 cloves garlic, smashed
1 sprig rosemary
3 to 4 lb. whole chicken
In a medium saucepan set over medium heat, combine the water, sugar, salt, peppercorns, juniper berries, garlic, and rosemary. Heat until the sugar and salt dissolve. Remove from the heat and allow to cool completely. (The brine can be prepared a day ahead and refrigerated.)
Cut the chicken into serving pieces (freeze the back and wing tips for making stock, or discard). Place the chicken in a bowl or large ziptop bag. Pour in enough brine to cover. Seal or cover and refrigerate for at least 8 hours and up to 24 hours.
Bourbon-molasses glaze
¼ cup bourbon
¼ cup blackstrap molasses
1 tsp. cider or red wine vinegar
Combine the bourbon, molasses and vinegar in a small saucepan set over medium heat and whisk until well combined and bubbling. Remove from the heat and set aside.
Preheat oven to 375°F. Set a cooling rack or roasting rack on a baking sheet. Remove the chicken from the brine and discard. Pat chicken dry with paper towels and set skin side up on the rack (no need to add salt, since the chicken has been brined). Brush with glaze. Roast the chicken in the top third of the oven for about 20 to 25 minutes, or until the internal temperature of the thigh is about 130°F to 140°F. Brush with glaze again.
Increase heat to 450°F and roast until the internal temperature of the thigh is 160°F (about 10 more minutes). If the skin isn't crispy yet, place under the broiler for a few minutes. Divide the chicken among plates. Drizzle with drippings from the baking sheet if desired (be judicious; they're delicious and flavorful, but a little salty). Serve alongside your favorite starch, such as grits or mashed potatoes. Serves 4.
Reprinted with permission from Portland Cooks: Recipes from the City's Best Restaurants and Bars by Danielle Centoni
---
Did you enjoy this recipe? Sign up for our newsletter and get our favorite drink recipes of the moment in your inbox every month.