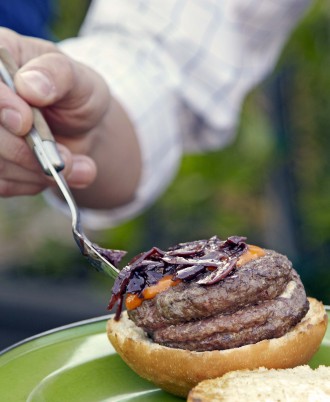 This marmalade pairs onions and Zinfandel—a perfect match for a burger. The recipe, from Michael Chiarello's book, Live Fire, is one to keep in your back pocket this summer. "You can freeze the marmalade, which makes it a great way to use leftover wine the day after a party," Chiarello notes. "Store the marmalade in an airtight container in your freezer for up to 1 month."
2 medium red onions
¼ cup extra-virgin olive oil
½ tsp. coarse sea salt, preferably gray salt
¼ tsp. freshly ground black pepper
2 tsp. finely chopped fresh thyme
2 cups Zinfandel
3 lbs. ground chuck
¾ cup (about 6 oz.) crumbled blue cheese
About 1 Tbsp. coarse sea salt, preferably gray salt
About 1 tsp. freshly ground black pepper
6 sourdough or small levain rolls
Slice off the ends of the onions, halve the onions from end to end, then peel them. Slice each half into thin half-moons. You should have about 4 cups of sliced onions. Set aside.
Heat a large saucepan over high heat. When the pan is hot, pour in the olive oil. When the oil is hot, add the onions, salt, and pepper. Decrease the heat to medium-high, and cook, stirring occasionally, until the onions are caramelized, 8 to 10 minutes. Sprinkle in the thyme and cook for 1 minute more. Pour in the Zinfandel and cook until the sauce has reduced by about two-thirds, 4 to 5 minutes. Take the pan off the heat and let the marmalade cool while you make the burgers.
Turn a gas grill to high or ignite charcoal. When the grill is hot, for both gas and char­coal grills, clean your grill rack. Decrease the temperature to medium-high (on a gas grill only), and brush or wipe a little olive oil on the grill rack.
Shape the ground beef into 12 thin patties. On each of 6 of the patties, spoon 2 tablespoons of blue cheese, leaving 1/2-inch margin free of cheese all the way around. Cover with the remaining patties. Lightly, lightly press the edges of each burger together while keeping its shape. Season both sides of each burger with salt and pepper.
Place the burgers on the hot grill and close the lid. After 5 to 6 minutes, flip the burgers, close the lid, and cook for another 4 minutes for medium-rare burgers, another 6 minutes for medium burgers.
To serve, place each patty on a roll and top with a few spoonfuls of the marmalade. Serves 6.
Recipe reprinted with permission from Michael Chiarello's Live Fire (copyright Michael Chiarello, 2013), published by Chronicle Books.