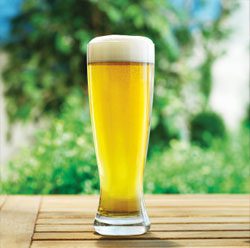 It's the holy trinity of warm-weather refreshment—shorts, sunglasses and session brews! Nothing welcomes the springtime sun quite like a frosty pint, and now more than ever, it's easy to sip low-alcohol suds as brewers around the world craft thirst-quenching beers that go big on flavor while minimizing their ABV. We highlight five favorite sessionable beers in our May/June 2013 issue, but there are plenty of added opportunities to take a taste—here are some other low-alcohol brews we'll be cracking all season long.
Kastrup, Denmark, 3.5 percent ABV
This California Common-styled brew comes by way of Belgium's Amager Bryghus, and fuses spicy hop flavors with a splash of sweet bready malts on the finish.
Anchor Steam
San Francisco, Calif., 4.9 percent ABV
The flagship ale of one of the granddaddies of the American craft beer movement, this coppery-gold quaffer offers strong floral notes, some mild malty sweetness and a crisp bitterness that pairs perfectly with barbecued chicken.
Bayerischer Bahnhof Leipziger Gose
Leipzig, Germany, 4.5 percent ABV
In 2000, German brewer Thomas Schneider decided to revive the virtually extinct Leipziger Gose style, a top-fermenting wheat beer made with coriander, salt and lactic acid. The resulting beer has distinctive tartness, with the salt appearing in the finish.
Brooklyn Summer Ale
Brooklyn, N.Y., 5 percent ABV
Summertime drinking at its coolest, this English-style pale ale from Brooklyn brewmaster Garrett Oliver thoroughly quenches with its light, earthy hops and touch of food-friendly malt.
Dogfish Head Festina Pêche
Milton, Del., 4.5 percent ABV
Like the name suggests, this Berliner weisse-style beer has loads of peach flavor and a tangy acidity that balances the fruit.
Barcelona, Spain, 2.8 percent ABV
Kick up your feet in the summer sun with this Barcelona-brewed pale ale. Hoppier than you would expect from the style, expect loads of fresh-cut grass, lemon peel and pine.
Half Acre Beer Co. Gossamer Golden Ale
Chicago, 4.2 percent ABV
Who need a big, boozy beer when you've got this golden refresher? Fresh and fizzy with a mix of tropical fruit aromas and subtle hoppy pine flavors, this brew conveniently comes packaged in a can, ready to head out wherever your warm-weather adventures may take you.
Ipswich, Mass., 4.3 percent ABV
Instead of following the big-beer trend, Massachusetts-based Chris Lohring goes against the grain, producing more than a dozen different session brews. This IPA keeps the hops in the foreground, while light malty flavors fall in on the finish.
Reissdorf Kölsch
Cologne, Germany, 4.8 percent ABV
Light and refreshing, with good effervescence and a surprisingly hefty amount of hoppy bitterness.
Stone Levitation
San Diego, Calif., 4.4 percent ABV
Stone has made its reputation on big-personality beers, so it's no surprise that its lower-alcohol offering still packs plenty of flavor. This dark-copper brew offers loads of floral hops and a bitter-orange finish.
Tröegs Dreamweaver
Harrisburg, Penn., 4.8 percent ABV
Another deliciously refreshing wheat beer, this one with pronounced spicy notes and a strong undercurrent of banana.
Trumer Pils
Berkeley, Calif., 4.9 percent ABV
Crisp and clean with a touch of maltiness, this is as easy-drinking a Pilsner as they come.
Victory Donnybrook Stout
Downingtown, Penn., 3.7 percent ABV
Stouts are typically a lower-ABV beer style, but the double whammies of modern craft brewing have left their lower-alcohol counterparts in the dust. Enter this roasty-toasty brew from Victory. German malts mingle with earthy, European hops in this smooth and creamy, Irish-style stout.
Widmer Columbia Common
Portland, Ore., 4.7 percent ABV
A recent release from the brew crew behind the ubiquitous Widmer Heffeweizen, this spring ale gets its grassy, bitter edge from a trio of hops, including the once-forgotten Columbia variety.