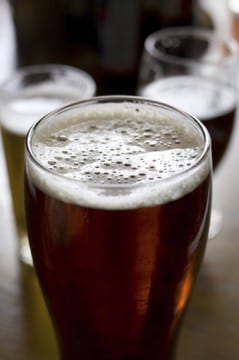 Without a doubt, the holiday season is made all the merrier with a pint in hand, and with wintry favorites again making their way to market, there's no better time to scoop up a bottle or two. With styles ranging from classic Belgian strong ales to recipes that change year to year, the flavors of these festive releases are the ideal match for the decadent foods and overall merriment of the season, and they make perfect gifts for your beer-loving friends. Here are 10 favorites worth checking out.
Anchor Christmas Ale
San Francisco, Calif., ABV varies
Not many breweries can stake claim to making the same beer for the past 41 years, but for more than three decades, Anchor Brewing has released this top-secret winter warmer to eagerly awaiting fans each November. The recipe changes with every vintage, as does the flavor profile—which has offered everything from Christmas tree to Christmas spice—and although this brew typically hovers around 6% alcohol, it ages gracefully, taking on refined whiskey-like notes after as little as one year.
Bell's Brewery Christmas Ale 
Kalamazoo, MI, 5.5% ABV
You won't find any added baking spices in this malty treat from Michigan; All the perceived cinnamon and nutmeg flavors come from 100% Michigan-grown barley. This results in a pleasing underlying earthiness and dryness that sets it apart from the sweet treats of the season.
Boulevard Nutcracker Ale
Kansas City, Mo., 5.8% ABV
This mahogany-colored ale offers malty, molasses flavors that are nicely balanced by welcoming cinnamon spice and citrus hop bitterness on the finish. A classic example of the wintertime style.
Deschutes Jubelale
Bend, Ore., 6.7% ABV
This venerable holiday seasonal stays true to the classic winter warmer style with crystal malt sweetness, dark fruit flavors and a touch of alcohol on the finish that warms you like a wool blanket.
Full Sail Wassail
Hood River, Ore., 7% ABV
This knockout winter warmer has been a brewing tradition for Full Sail for more than two decades and keeps on pleasing with its mix of toasty malts and Pacific Northwest hops.
Great Lakes Brewing Co. Christmas Ale 
Cleveland, OH, 7.5% ABV
A smack of ginger and kiss of honey gives this annual spiced ale a rich body and subtle sweetness that's hard to come by in winter warmers. Grab a pack if you can find some—it's one of the most coveted seasonals in the Midwest.
Karl Strauss Brewing Co. Six Suits A-Hangin' Holiday Imperial Belgian Brown
San Diego, CA, 8.5% ABV
With Karl Strauss being located in sunny, southern California, the six suits in question are, naturally, wet suits. But that doesn't make their Imperial Belgian Brown any less festive. Brewed with brown and caramel malts for a toasty, graham cracker sweetness, the beer is aged in French oak barrels contributing an aroma of vanilla. At 8.5 percent ABV, it could be just the winter warmer you need after catching some waves in the frigid Pacific.
Ommegang Brewery Lovely, Dark and Deep Oatmeal Stout
Cooperstown, NY, 5.3% ABV
Light-bodied with an exceptionally crisp, heavily roasted character from the chocolate malts, this beauty features hints of dark ripe fruit thanks to the use of the brewery's house yeast. Overall, It's lighter than one might expect from the name, but it's one of the beer's strengths, making it easier to enjoy a few by a crackling fire. The brewery recommends pairing with heavy cheese, roast beef and mustard.
Southern Tier Old Man Winter Ale 
Lakewood, NY, 7.5% ABV
Tired of all the heavily-malted, spiced-this-and-that beers the holiday season tends to offer? Turn to Southern Tier's Old Man Winter Ale for a bracing dose of dry, floral hops that evoke the aromas and flavors of a wintry pine tree-filled forest. Or reach for the brewery's cheeky imperial Helles Lager (9% ABV) called Krampus for a crisp, clean flavor that'll scare the holiday spirit right back into your belly.
SweetWater Brewing Co. Festive Ale
Atlanta, GA, 8.1% ABV
With a big, toasty profile that comes from a lineup of malts including Munich, Chocolate and Black, the seasonal Festive Ale from SweetWater gets its Christmas cheer from a dash of mace and cinnamon. The overall effect is pleasantly warming and undeniably merry.