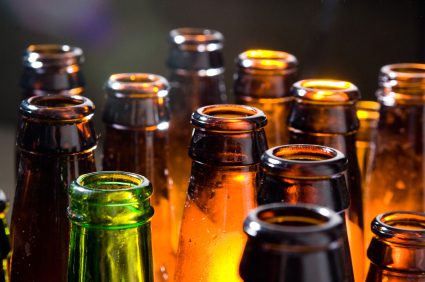 For the true beer aficionado, there's nothing like being able to present your friends with not just a tasty beer, but also a crazy tale of that beer's origins. It makes the experience all the more special and adds an extra layer to the flavors in your glass. These 10 beers will give you something to talk about all the way until the next round.
Blind Bat Hellsmoke Porter Centerport, N.Y.  5.7% ABV, 22 oz.
There are plenty of microbreweries out there, but Long Island illustrator and cartoonist Paul Dlugokencky calls his Blind Bat a nanobrewery. The one-man (that would be Dlugokencky, working part-time) operation brews back-to-back batches of beer in his home, one-third of a barrel at a time, until he has enough for a full barrel; Dlugokencky also hand-mills all his grain just before mashing. In the case of his Hellsmoke, he also smokes a portion of his malts himself over alder and applewood. You'll be lucky to find this beer outside of Long Island, much less New York, but it's worth seeking out if you're in the area or can arrange a trade.
Dogfish Head Palo Santo Marron Milton, Dela.  12% ABV, 12 oz.
There can't be anyone left in the beer-drinking world who would be surprised to hear about craft beer being brewed in Milton, Delaware. So in this case it's not the brewery or the town that's unexpected; it's the vessel in which the beer is aged. Not only is it made from exotic Paraguayan palo santo ("holy tree") wood, it's also the biggest wooden brewing vessel built in the U.S. since before Prohibition. The palo santo gives its namesake beer a range of interesting vanilla and woody notes, making it far more than a glitzy gimmick.
Hitachino Nest Japanese Classic Ale Kounusu, Japan  7% ABV, 11.2 oz/700 ml.
The Kiuchi Brewery began making sake in the tiny Japanese hamlet of Kounsosu back in the early 19th century, but it wasn't until 1996 that it began brewing beer. Its Japanese Classic Ale is aged in cedar casks before being bottle-conditioned, producing a creamy, bittersweet brew with intriguing woodsy notes.
Lion Stout Nuwara Eliya, Sri Lanka  8% ABV, 11.2 oz.
When British colonists came to Sri Lanka, a hilly island off the southernmost tip of India, they set up large tea plantations. But the Englishmen working at those plantations were thirsty for beer. Long after the sun set on the British Raj, the Lion brewery remains, and its tropical-weight stout—made with an alcohol content meant to survive long sea voyages—is as rich and satisfying today as it must have been when it was first produced.
Mikkeller Beer Geek Breakfast Grimstad, Norway  7.5% ABV, 500 ml.
No brewery on this list fits the category description so perfectly as Mikkeller, because you literally don't know where to expect Danish brewer Mikkel Borg Bjergsø to turn up next; he brews all his beers on other breweries' equipment, traveling the globe to make boundary-breaking bottlings that have earned cult status among the beer cognoscenti—like this ink-black stout, which he brews at Nøgne Ø's facilities in Norway and flavors with coffee beans.
Reutberger Export Dunkel Sachsenkam, Germany  5.2% ABV, 500 ml.
We've all heard about beer being brewed by monks, but what about a beer brewed by nuns? For more than five centuries, Franciscan sisters have been brewing beer in their Bavarian convent; the recipe for this dark red-brown dunkel dates back to the 1600s.
Saint Somewhere Lectio Divina Tarpon Springs, Fla.  8% ABV, 750 ml.
Located just outside of St. Petersburg on Florida's Gulf Coast, the sunny, sleepy beach town of Tarpon Springs seems like the last place to look for serious Belgian-style beers. But sure enough, Saint Somewhere has emerged as a faithful follower of Belgian beermaking tradition. Its Lectio Divina pours a warm hazy amber, and the flavor is full of the fruity, yeasty and funky notes you'd expect from a Belgian strong ale. Beach beer just got a whole lot more interesting.
Samichlaus Bier Eggenberg, Austria  14% ABV, 11.2 oz.
Sure, you've fantasized about becoming the King (or Queen) of Beer—who hasn't? But where would your castle be? We'll tell you: In the foothills of the Austrian Alps, where once a year, the world's strongest lager is brewed in an honest-to-goodness castle, complete with turret, moat (well, OK, a river) and yes, peacocks wandering the grounds.
Traquair House Ale Innerleithen, Scotland  7.2% ABV, 11.2 oz.
Want a taste of history? Traquair House is the oldest inhabited house in Scotland, dating back to 1491. Its brewery ceased operations in the 1800s, but was revived by the current Laird of Traquair in 1965. Using a copper brew kettle that's more than 200 years old, the small brewery creates this strong Scottish ale with a beautiful red-brown color and a faint hint of peat.
Vapeur en Folie Pipaix, Belgium  8% ABV, 750 ml.
This cumin-spiked Belgian ale is brewed in the world's last remaining steam-powered brewery, using equipment that dates back to the 19th century. In contrast to today's assembly-line beer factories, Brasserie a Vapeur brews barely more than 5,000 bottles' worth of beer once a month, and each batch is slightly different, so it's worth hunting down a few bottles to cellar and compare with a fresh batch.