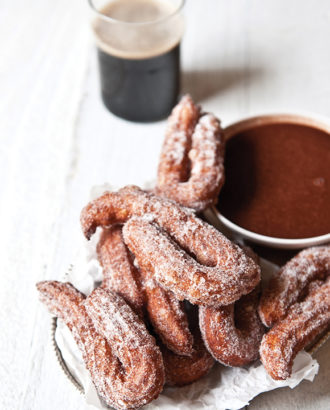 The only thing better than fried bits of sweet, beer-soaked dough (aka beer churros)? Dipping them in a stout-infused chocolate sauce.
For the Churros
½ cup unsalted butter
1 cup wheat beer
¼ tsp. salt
1 cup all-purpose flour
3 large eggs, beaten
Canola oil for frying
1/3 cup granulated sugar
For the Chocolate Stout Sauce
3 oz. dark chocolate
½ cup stout
1 Tbsp. cornstarch
2 Tbsp. unsalted butter
In a saucepan over medium-high heat, melt the butter. Stir in the beer and the salt. Add the flour, stir until well combined and thickened into a ball, then remove from the heat.
Slowly whisk in the beaten eggs until combined. Add the batter to a piping bag with a metal star tip.
Heat 4 inches of oil in a saucepan with a deep-fry thermometer clipped on the side, adjusting heat to maintain 350 degrees F. Gently squeeze 4-inch ribbons of batter into the hot oil and fry until cooked through and dark golden brown on the outside, about 2 minutes per side.
Transfer to a paper towel to briefly drain, then roll in the granulated sugar.
To make the sauce, combine all the ingredients in a saucepan over medium-low heat; whisk while cooking until well combined and thickened, about 8 minutes.
Serve churros with the chocolate sauce on the side. Serves 6.
Reprinted with permission from The Craft Beer Bites Cookbook by Jacqueline Dodd. Published by F+W Media, Inc.