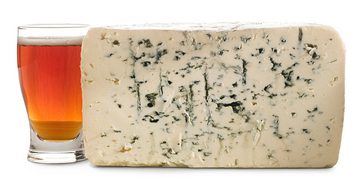 Love beer? Love cheese? Try these seven great beer-washed cheeses.
In the May/June 2012 issue, Joshua Bernstein writes about America's beer-washed cheeses. Inspired by Belgium's beloved farmhouse cheeses, and other European traditions that wash cheeses with beers, these complex fromages employ locally brewed ales to delicious result. Look for these or other beer-bathed rounds at your local cheesemonger's shop.
Winnimere by Jasper Hill Farm, Vermont

This creamy 60-days–aged raw milk cheese is made from the high-protein winter milk of Jasper Hill's own Ayrshire heifers and washed with beer brewed down the lane at Hill Farmstead Brewery.
Freedom Hop Cheddar by Rogue Creamery, Oregon
This seasonal cheddar is infused with fresh Freedom hops grown by Oregon's Rogue Ales and released every spring. Taste it at Rogue pubs in Oregon, Washington and California.
Tommenator by Keswick Creamery, Pennsylvania
This Alpine-style tomme cheese is washed weekly with Trogenator, a double bock made by nearby Tröegs Brewing Company, imparting a sweet, malty aroma and a hoppy finish.
Beer Cheese by Harpersfield Cheese, New York
This cave-aged German-style tilsit cheese is bathed in Belgian-style ale from Brewery Ommegang. And for diehard fans, Brooklyn cheesemongers Stinky Bklyn sell a double-soaked version of Harpersfield Beer Cheese, which has been soaked for a second time in Brooklyn Brewery's Local 1 and further aged.
Summertime Blues by Caves of Faribault, Minnesota
Faribault's St. Pete's Select blue cheese is bathed in Horizon Red Ale from St. Paul, Minnesota's Summit Brewing. Its part of the Blues & Brews series the dairy and brewery collaborate on.
Raspberry BallaVitano by Sartori Cheese, Wisconsin
This creamy, Italian-style farmstead cheese is soaked in Raspberry Tart ale from Wisconsin's own New Glarus Brewing for a bright, fruity result.
Naughty Nellie by River Valley Ranch, Washington
This raw milk tomme from cheesemakers Julie and Rob Steil is bathed in Naughty Nellie golden ale from Seattle's Pike Brewing.