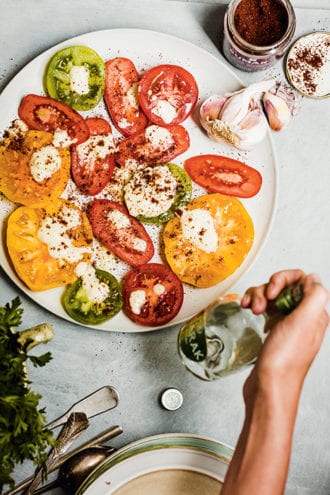 Originating in the Middle East, where it remains a popular aperitif, arak is an ancient spirit most commonly distilled from grapes and aniseed. In this hot-weather recipe from Arabic cooking experts Nadia Zerouali and Merijn Tol, the intense anise notes of arak and toum, an Arabic garlic sauce similar to aioli, make for an amazing summer snack when served over plump heirloom tomatoes.
Meaty ripe tomatoes
Arak, or Pastis
6 garlic cloves
2 Tbsp. fresh lemon juice
Salt
Sumac
150 ml. sunflower oil
Cut the tomatoes into thick slices and arrange them on a plate. To make the toum, crush the garlic in a mortar and pestle until it forms a paste-like consistency, then set it in a small bowl with a pinch of salt and add the lemon juice. Add the sunflower oil to the bowl in a slow stream and whisk until emulsified. Season the tomatoes with salt and sumac, then sprinkle them with some arak. Drizzle the toum over the tomatoes and serve.
Reprinted with permission from Souk: Feasting at the Mezze Table, copyright 2018 by Nadia Zerouali and Merijn Tol. Published by Smith Street Books. 
---
Did you enjoy this recipe? Sign up for our newsletter and get our favorite drink recipes of the moment in your inbox every month.