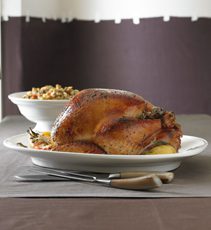 No holiday meal is complete without a boat full of gravy, and this recipe from Diane Morgan's The New Thanksgiving Table adds an unexpected element of applejack to the seasonal staple.
2 Tbs. unsalted butter
Turkey heart, gizzard and neck meat, cooked and finely minced
¼ cup instant flour, such as Wondra or Shake & Blend
2 ½ cups turkey stock
¼ cup applejack, or more to taste
Kosher or sea salt
Freshly ground pepper
In a saucepan over medium heat, melt the butter and swirl to coat the pan. Add the minced heart, gizzard and neck meat and sauté until heated through, about one minute.
Meanwhile, in a small bowl or measuring cup, whisk together the flour and ½ cup of the stock until the flour is dissolved.
Add the remaining two cups stock to the pan and bring to a simmer. Whisk in the flour mixture and simmer until the gravy thickens, about five minutes. Stir in the applejack. Season to taste with salt and pepper. Add more applejack, if desired. Keep warm until ready to serve.