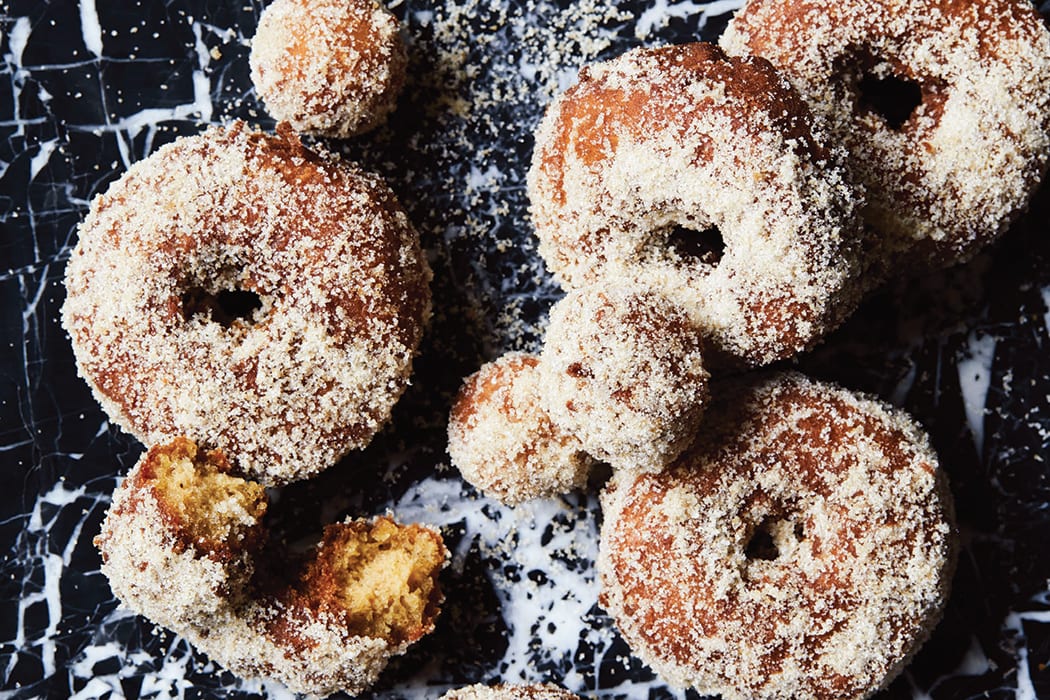 Ori Menashe and Genevieve Gergis, owners of Los Angeles Italian restaurant Bestia, are both native Angelenos, unaccustomed to changing seasons and the culinary delights that come with them. In response, they created this recipe for traditional apple cider donuts with "wistful nostalgia," as they put it. The batter is more like a cake batter than typical donut dough, and the little donuts fry up extra crisp on the outside, staying moist on the inside from the addition of freshly grated apple.
4 cups unfiltered apple cider
¼ cup sour apple liqueur
6 strips orange zest
14 whole cloves
3⅔ cups all-purpose flour
1 cup very fine cake flour
2 cups whole-wheat pastry flour
4 tsp. baking powder
2 tsp. baking soda
2 tsp. ground cinnamon
½ tsp. mace
2¾ tsp. kosher salt
½ cup buttermilk
1 tsp. vanilla extract
¾ cup solid, cold Black Butter (recipe follows)
1 cup plus 5 Tbsp. granulated sugar
4 large eggs, separated
2¾ cups peeled and grated tart apple, such as Pink Lady or Granny Smith (5 to 6 apples)
Neutral oil, such as grapeseed, for frying
Sugar Coating
1 cup granulated sugar
½ cup packed light brown sugar
⅛ tsp. kosher salt
In a saucepan over high heat, combine the cider, apple liqueur, orange zest and cloves, and bring to a boil. Cook until reduced by about three-fourths, around 10 minutes. Remove from the heat, strain out solids and set aside.
In a large bowl, whisk together all three flours, the baking powder, baking soda, cinnamon, mace and salt. Set aside. In a small bowl, stir together the buttermilk and vanilla and set aside.
In the bowl of a stand mixer fitted with the paddle attachment, cream the black butter with the sugar, beating on medium speed until light and fluffy, about 5 minutes. Turn the speed to low and add the egg yolks one by one, beating after each addition until incorporated. Scrape down the sides of the bowl with a rubber spatula, then add the apple cider reduction and beat on medium speed until thoroughly incorporated. Add the buttermilk mixture and beat until thoroughly mixed in. Add the grated apples and mix on low speed until incorporated. Turn off the mixer, dump in the flour mixture, and then continue to mix on very low speed until almost fully incorporated. Remove the bowl from the stand mixer and scrape the bottom of the bowl with a spatula to make sure all of the dry ingredients are mixed with the wet, then set aside.
In a large metal bowl, whisk the egg whites until they hold stiff peaks. Gently fold the beaten egg whites into the batter with a rubber spatula until just combined.
Line a baking sheet with a flour-dusted silicone baking mat. Transfer the dough to the mat, sprinkle with flour, then cover the dough with a large sheet of plastic wrap and begin to gently press it into a flat, even layer. Remove the plastic wrap, dust your hands with flour, and finish pressing the dough until it's about ¼ inch thick. Cover the baking sheet with plastic wrap and freeze for 30 minutes or refrigerate for 1 hour, until the dough is firm enough to cut.
Line another baking sheet with parchment paper and lightly dust with flour. When the dough is firm, flip it onto the parchment-lined sheet to keep the dough from sticking as you cut circles. Using a round cutter 2 to 2½ inches in diameter, cut out circles of the dough; then use a 1-inch round cutter to cut holes out of the center of each round, reserving the holes. Try to keep everything cold while working, and dust everything with all-purpose flour to keep it from sticking. If it begins to stick too much, return the dough to the refrigerator until it firms up.
Pour oil into a heavy-bottomed pot or Dutch oven to a depth of 3 inches and warm over high heat to 350°F on a deep-frying thermometer. Using a slotted spoon, carefully add the donuts and holes to the oil, a few at a time. When the bottoms are deep golden brown, after about 1 minute, use the slotted spoon to flip; cook until they are a nice golden brown all over, 45 seconds to 1 minute longer. Using the slotted spoon, transfer to paper towels to drain, then immediately coat lightly in the sugar coating and transfer to a baking sheet. Repeat until you've finished frying the remaining donuts and holes. Serve warm with whipped cream for dipping. Makes about 24 donuts and 24 holes.
Black Butter: In a sauté pan over high heat, melt 1 pound of unsalted butter. Once melted, turn the heat to the lowest setting and let cook, undisturbed, until the solids have settled to the bottom of the pan and blackened and the butter turns a dark amber color, about 30 minutes. Let cool, then transfer to an airtight container and refrigerate for up to 1 month.
Reprinted with permission from Bestia: Italian Recipes Created in the Heart of L.A. by Ori Menashe, Genevieve Gergis and Lesley Suter, copyright 2018. Published by Ten Speed Press, an imprint of Penguin Random House.
---
Did you enjoy this recipe? Sign up for our newsletter and get weekly recipes and articles in your inbox.