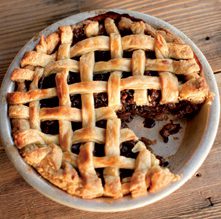 When apple season hits, there's no better way to celebrate than by making a pie. This recipe from The Grand Central Baking Book by Piper Davis and Ellen Jackson offers their delicious take on mince pie. The combination of apples, dried fruit, nuts and brandy makes it an instant holiday classic.
2 disks pie dough (homemade or premade shells)
3 Tbsp. unsalted butter
1 lb. apples (about 2 large apples), peeled, cored and diced into ½-inch cubes
¾ cup currants
¾ cup golden raisins
½ cup walnuts, lightly toasted and coarsely chopped
¼ cup packed light brown sugar
¼ cup brandy
½ cup apple cider
2 Tbsp. molasses
1 Tbsp. fresh lemon juice
1 tsp. finely chopped lemon zest
1 tsp. pumpkin pie spice (combine ⅛ cup ground cinnamon, 1 Tbsp. ground ginger, ½ Tbsp. ground nutmeg, ½ Tbsp, ground cloves, and ½ Tbsp. ground allspice; stores for up to 3 months)
⅛ tsp. salt
Melt the butter in a large, heavy saucepan over medium heat. Add the remaining ingredients, stirring well to combine and evenly distribute the liquids and spices. Bring the mixture to a boil, then turn down the heat to low, cover and simmer until the apples are soft, about 20 minutes. Let the mixture cool before pureeing half of it in a food processor or blender. Add the pureed portion back to the chunky mixture and chill completely before filling the pie.
Preheat the oven to 375°F. Roll out the dough and place in a pie pan, or pull out pre-made pie shells. Pour filling in pie shell and top with lattice. Bake for 30 minutes, then rotate the pan and lower the oven temperature to 350° F. Bake for 30 minutes more, until the crust is a rich golden brown and the filling is bubbling. Serves 8.
Reprinted with permission from The Grand Central Baking Book: Breakfast Pastries, Cookies, Pies, and Satisfying Savories from the Pacific Northwest's Celebrated Bakery by Piper Davis with Ellen Jackson, copyright© 2009. Published by Ten Speed Press, a division of Random House, Inc.