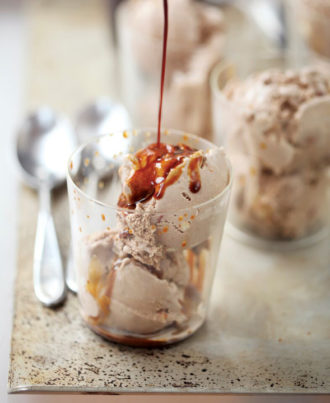 Mezcal-infused ice cream creates a smoky backdrop for this coffee-fueled dessert.
Smoky Almond Ice Cream
2 cups heavy cream
1 cup half-and-half
⅔ cup sugar
3 Tbsp. carob powder
2 Tbsp. mezcal
6 egg yolks at room temperature
½ cup almonds
Combine the cream, half-and-half, sugar, carob, and mezcal in a heavy medium saucepan. Cook over medium-low heat, stirring often, until bubbles begin to form at the edges, between 180 degrees F and 190 degrees F.
Put the egg yolks in a medium bowl. Add ¼ cup of the warm cream mixture and whisk until well blended. Repeat five more times, until 1½ cups of the cream mixture have been added and the egg yolk mixture is as warm as the remaining cream mixture.
Slowly pour the egg yolk mixture into the saucepan in a steady stream while whisking constantly. Cook over low heat, whisking constantly, until the mixture thickens and coats the back of a spoon, about 10 minutes. Strain through a fine-mesh sieve into a bowl. Press plastic wrap onto the surface and refrigerate for at least 3 hours and up to 12 hours.
In a heavy medium skillet, toast the almonds over medium heat, shaking often, until fragrant and slightly brown, about 5 minutes. Let cool completely, then coarsely chop.
Freeze the cream mixture in an ice cream maker according to the manufacturer's instructions, adding the almonds almost at the end of the churning time. Transfer to a container, cover, and freeze until firm, at least 3 hours. The ice cream can be stored in the freezer for up to 2 weeks.
Makes 1 quart.
Affogato
5 shots (125 ml. to 175 ml.) freshly brewed hot espresso
To assemble the affogatos, divide the ice cream evenly among five cups or bowls and pour a shot of espresso over each. Serve immediately.
Reprinted with permission from The Blue Bottle Craft of Coffee: Growing, Roasting, and Drinking, with Recipes, by James Freeman, Caitlin Freeman, and Tara Duggan, copyright © 2012. Published by Ten Speed Press, a division of Random House, Inc.