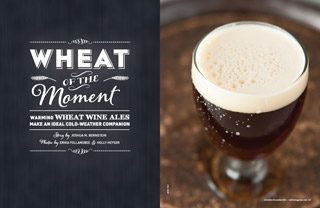 The plan was to brew a barley wine. One day during the mid-'80s, Phil Moeller met up with a friend to make a batch of that strong, warming winter ale. But a blunder occurred. Too much wheat went into the mash. Before the beer swirled down a drain, samples were poured. "As all brewers do, they drank their mistakes and found it delicious," says Glynn Phillips, who owns Sacramento, California's Rubicon Brewing Company, where Moeller became the first brewmaster in 1987. To celebrate the brewery's first anniversary, in fall 1988, Moeller revisited his delicious gaffe.
Relying on a heavy measure of wheat, Moeller made a rich, brawny ale with a surprising caramel complexity that tipped the scales at more than 10 percent ABV. Despite the heft, Winter Wheat Wine was surprisingly, even dangerously easy-drinking. "In the early '90s we used to sell pitchers of the Winter Wheat Wine," says Scott Cramlet, Rubicon's brewmaster since 1990. "I'm sure there were some righteous hangovers back then."
Since wheat wine's accidental birth, the intriguingly malleable style has steadily gained a toehold in craft breweries' lineups, becoming a lighter but no less warming barley wine alternative. In Michigan, Short's Brewing Company makes its Anniversary Ale with blood orange zest and green peppercorns, while New Hampshire's Smuttynose Brewing Company ages its Wheat Wine Ale with oak chips. In Missouri, Boulevard Brewing Company has taken the name of its Harvest Dance Wheat Wine literally, formerly adding grape juice when bottling the beer. And what started as an annual fall release for Rubicon has blossomed into a year-round staple.
Against the Grain
There's no denying that a snifter of barley wine is wonderful on a winter evening. Occasionally, though, versions can border on cloying. It's a hazard of brewing with loads of malt. Massive amounts are critical for supplying the fermentable sugars that yeasts convert into an elevated alcohol profile, but too much barley, and not enough balancing hops, can create a sweet imbalance.
Adding wheat is not a cure-all, but the grain does diminish some of a big, boozy beer's potential drawbacks. Used in conjunction with barley, wheat adds smoothness, a touch of tartness, rounds out a beer, and helps with head retention. (Recall the foamy cap atop a freshly poured pint of wheat-focused hefeweizen.) And somewhat counterintuitively, using large percentages of wheat in a stronger beer can add a unique caramelized flavor profile.
"What draws me to the style is that malty, caramel finish that's different from a barley wine," says Phil Wymore, the brewmaster and cofounder of Perennial Artisan Ales in St. Louis, Missouri. When Wymore was looking to build a lineup of high-alcohol beers, he initially thought about a barley wine or an imperial stout—beers he could brew and bottle quickly, which was important for his fledgling brewery. Then, a brain flash: "Breweries in St. Louis were already making barley wines, but no one was making wheat wines," he says. Familiar with the style from his stint at Chicago's Goose Island, where a pub brewer made several versions of wheat wine, Wymore released his hop-forward Heart of Gold in October 2011 and gave it an annual slot in his Cellar Series.
While the style's caramel quirk has appeal, other brewers enjoy that wheat creates a lighter body that, combined with the general lack of stylistic guidelines, provides a perfect platform for experimentation. In Ohio, Jackie O's Pub & Brewery makes several versions of its honey-driven wheat wine, including the bourbon barrel–aged Bourbon Berry Grove that's matured alongside cherries and blueberries. For its White Oak, California's The Bruery blends equal ratios of a bourbon-barreled wheat wine with its strong, hoppy Belgian ale Mischief. (Rubicon has also released a bourbon-barreled wheat wine, as has Perennial.)
On the other hand, Oklahoma City's COOP Ale Works added alfalfa honey to its Territorial Reserve Wild Wheat Wine Ale and infected it with unpredictable Brettanomyces yeast (the namesake "wild"), before letting flavors develop for more than a year. "The honey dried out the beer and left behind some really nice flavors, and it had a little bit of a tang," says cofounder and director of sales and marketing JD Merryweather.
It filled fans' desire for a flavorful, atypical beer that's not another hop bomb. "When you brew a beer that deviates from a heavy hop profile, it's amazing how people respond," he says. "People went crazy for the wheat wine."
Northern Michigan's Short's Brewing also went crazy with its wheat wine. This is no surprise—Short's is synonymous with wacky, yet winning beers, such as the S'Mores Stout and Key Lime Pie. When selecting a beer to celebrate the brewery's fifth anniversary, in 2009, creative engineer and brewmaster Joe Short, his production manager and pub brewer merged three different beers they each wanted to make: a wheat wine, a beer with blood oranges, and one with plenty of peppercorns. "The smooth, malted wheat base buffers the tartness from the blood orange," says Short of what's become an annual tradition called Anniversary Ale. "It's a very in-depth beer and surprisingly sessionable. It doesn't bog me down like some burly barley wines do."
What's in a Name?
When it comes to alcoholic beverages, the American government tries to insulate its citizenry from confusion. Lest someone mistake a barley wine with, say, a bottle of Cabernet Sauvignon or Chardonnay, the Alcohol and Tobacco Tax and Trade Bureau requires brewers to label the beer as a "barley wine ale" or a "barley wine style ale."
Until 2005, the TTB hadn't approved a terminology for wheat wines because breweries had not shipped bottled versions across state lines. This is not to say that breweries were not bottling wheat wines. Since 2000, Illinois' Two Brothers has packaged the annual Bare Tree "barley wine style weiss beer," and California's Marin Brewing bottled Star Brew, a "triple wheat ale" inspired by Rubicon's Winter Wheat Wine. "On a trip to Rubicon, we fell in love with the style," says Brendan Moylan, the proprietor of Marin Brewing, which debuted Star Brew on February 29, 1994—Leap Day—as its thousandth batch. "Back then, barley wines were all the rage. They were the extreme beer of the time. We'd already done the barley wine, so we wanted to do something special."
Made with two-thirds wheat, the celebratory brew became a standby because "it's a fun, big beer and easy-drinking," Moylan says. "It's easy to fall in love with a beer like that."
David Yarrington fell in love with wheat wine after sampling Oregon brewer Teri Fahrendorf's take at the 2001 Craft Brewers Conference in Portland, Oregon. "It was beautiful and incredible," recalls Yarrington. When he was hired at New Hampshire's Smuttynose Brewing, the company was looking to expand its Big Beer Series. Naturally, he suggested a wheat wine.
Yarrington brewed a recipe with darker wheat malts, then aged the beer with oak chips and pungent, citrusy Centennial hops. In early 2005, it was bottled and ready to ship out the door when there was a hiccup with the label—the TTB thought the term "wheat wine" could be confusing to the consumer. They settled on the term "wheat wine ale," and  at that fall's Great American Beer Festival, the Smuttynose Wheat Wine Ale won a gold medal.
Going Grape
Government regulators may safeguard consumers from confusing a craft beer with a carafe of wine, but in Kansas City, Missouri, Steven Pauwels is bent on blurring the distinction. As brewmaster at Boulevard Brewing, Pauwels has made wheat his muse, using the grain in the brewery's flagship Unfiltered Wheat Beer, as well as its fragrant Z¯ON Belgian-Style Witbier, citrusy Single-Wide IPA and imperial Dark Truth Stout. "Boulevard is a wheat-beer brewery," says Pauwels.
So it was not a matter of if, but when Boulevard would brew a wheat wine. In 2008, Pauwels was exploring adding another beer to Boulevard's experimental Smokestack Series. A barley wine was bandied about, but the brewmaster quickly turned his attention to wheat wine. Why not take the style's name at face value? "We had the idea to get actual wine characteristics in a wheat wine," Pauwels says. "No one really knows the style, so we could do whatever we wanted."
He reached in his spice cabinet and pulled out Citra hops, which have a Sauvignon Blanc profile, then aged the beer in a blend of French and American oak barrels. Finally, the beer was bottled with Muscat grape juice, which spurred a secondary fermentation. The result, called Harvest Dance Wheat Wine, recalled a warming trip to the tropics with a detour to a vineyard (it's no longer bottle-conditioned with grape juice due to licensing regulations). "I like how different it is from the other fall beers," Pauwels says. Harvest Dance is released in mid-autumn, just in time for wintertime savoring.
Many wheat wine makers try to stick to a fall/winter release schedule. Perennial's Heart of Gold hits stores in September, and New Holland's Pilgrim's Dole debuts in November. Others release wheat wines when you least need internal warmth—Short's rolls out Anniversary Ale at April's end, and Colorado's The Fort Collins Brewery unveils Wheat Wine Ale in May, as did Smuttynose this year. "Since our wheat wine requires a bit more aging time, we try to brew it at slower times of the year," Yarrington says. Besides, he says, their Wheat Wine Ale can easily withstand a cellaring stint. In fact, it may be better for it. "We put this beer out when we feel that you can drink it, but it's not quite at its prime," Yarrington says. "At the minimum, the beer needs a couple years of aging."
But there's no need to wait. If you spy a wheat wine on the shelves or at your local brewpub, grab one and savor the unexpected twist on the traditional barley wine. "You put it in your mouth, swish it around, savor the flavor and try to figure out what's going on," says Rubicon's Cramlet. "It's beer that requires a little more thinking when you're drinking."