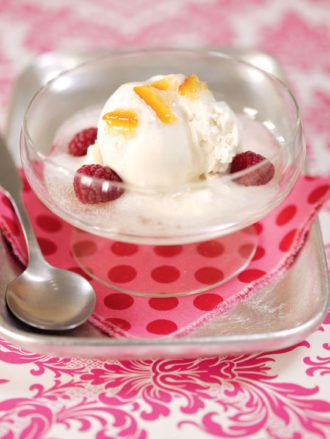 You're never too old for a float, but if you're looking for something a little different, try this fruity, sparkling float. This is just one of many sparkling recipes in the book Tiny Bubbles by Imbibe contributor Kate Simon. For the best results, use a marmalade that's as bitter as it is sweet, with lots of orange peel. Want to make it boozy? Sub in pear wine, eau de vie or liqueur instead of the sparkling juice.
2–3 medium scoops vanilla ice cream
Brandied cherries or fresh berries
½ oz. clove syrup (see below)
2 tsp. orange marmalade
Sparkling pear juice or cider, chilled
Spoon the ice cream into a saucer or highball. Add the desired amount of brandied cherries or fresh berries. In a separate cup or small bowl, mix together the Clove Syrup and orange marmalade, stirring well. Drizzle the orange-clove mixture over the ice cream and fruit. Top with chilled sparkling pear juice. Serve with a spoon. Serves 1.
Clove syrup: In a small saucepan over medium heat, combine 1 cup of unrefined sugar, 1 cup of water and ⅓ cup of whole cloves and bring close to a boil, stirring constantly, then reduce heat to low and simmer for 20 minutes, stirring occasionally. Let cool at room temperature. Strain into a clean bottle, cover, and refrigerate until ready to use. The syrup will keep for up to 2 weeks in the refrigerator. Makes 1 cup of syrup.