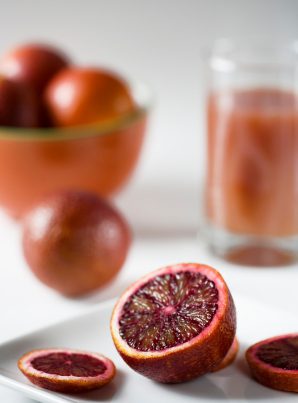 With bartenders and chefs working so closely these days, it was only a matter of time before the latest crossover emerged: gastriques. Some cocktailians are looking to these sugar- and vinegar-based sauces, long employed by cooks, as alternatives to simple syrup. The vinegar reduction's unique acidity can add depth to a drink, and the wide variety of fruits and herbs that can be added to the mix leaves plenty of room for experimentation.
1 splash fresh-squeezed lemon juice
1 cup white sugar
½ cup white wine vinegar
¼ cup coriander seeds
1 cup fresh-squeezed blood orange juice
1 oz. vodka
Tools: Medium saucepan, pastry brush, fine-gauge strainer, sealable glass or plastic containers
In a medium saucepan over medium heat, combine the lemon juice, sugar and enough water to cover the bottom of the pan. Use a pastry brush to push sugar off the sides and into the liquid. As soon as the mixture begins to turn brown and no longer bubbles, slowly stir in vinegar, followed by coriander seeds. Gradually add the blood orange juice and continue stirring until the mixture is a uniformly smooth, syrupy consistency. Remove from heat, and allow the mixture to cool. Strain out the coriander seeds. Add vodka to preserve freshness, and store in a sealed container in the refrigerator. A gastrique will keep for up to 6 weeks, although it will begin to lose its flavor sooner. Make small batches and use quickly for fresher taste.
Bobby Heugel, Anvil Bar & Refuge, Houston