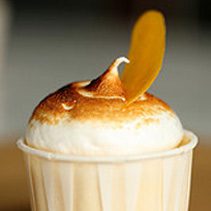 Ever thought to make cupcakes with bitters? This recipe shows off the virtue of bitters as a cooking ingredient.
1½ cups flour (cake if you have it, otherwise all-purpose)
¾ cups sugar
¼ tsp. salt
1 tsp. baking powder
¼ cup grape seed oil or vegetable oil
4 egg yolks (approximately 3 ounces)
¼ cup lemon juice
1 tsp. lemon extract, all natural grated rind from 1 lemon
1 tsp. Peychaud's bitters
5 egg whites (approximately 5 ounces)
¼ tsp. cream of tartar
¼ cup sugar
Sift flour, sugar, salt, and baking powder into the bowl of a standing mixer.
In a medium bowl, combine oil, egg yolks, lemon juice, lemon extract, lemon rind, and bitters. Stir to combine.
On a low setting, start to beat the dry mixture and slowly add the wet. Increase the mixer speed to medium and beat until incorporated. Transfer mixture to another bowl. Wash and dry mixer bowl.
Whip egg whites with whip attachment on medium-high speed until foamy. With the mixer on medium speed, add cream of tarter and slowly add sugar. Beat on high speed until stiff peaks form.
Scoop a cupful of the stiff egg whites into the batter and stir to combine. This should lighten up the batter.
Transfer the batter to the egg whites and gently fold until there are no more streaks of egg white. Scoop into cupcake cups about two-thirds full and bake at 350 F for 22-25 minutes or until a toothpick comes out clean. Makes 20 cupcakes.
Sorrel Meringue Frosting
½ cup sugar
3 egg whites
Sorrel simple syrup
Splash of Peychaud's bitters
Whisk the egg whites and sugar over a hot water bath in the standing mixer bowl until it reaches a temperature of 110 degrees Fahrenheit. This only takes only a few of minutes.
Transfer to standing mixer and whisk using whisk attachment at high speed until soft peaks form. With the mixer on medium speed, drizzle sorrel syrup into the mixer. Splash in a bit of bitters. Beat on high until stiff peaks form.
Sorrel Simple Syrup
1 Tbsp. granulated sugar
3 Tbsp. water
1 tsp. chopped sorrel
Add sugar and water to a small saucepan set over medium high heat. Heat the mixture until the sugar dissolves, stirring occasionally with a wooden spoon until fairly thick, about 2 minutes. Transfer to a small bowl. Stir in sorrel and set aside to cool. 
To Assemble: Pipe meringue frosting onto cupcakes. Toast with a culinary or blow torch.
Cheryl Porro, cupcakeblog.com