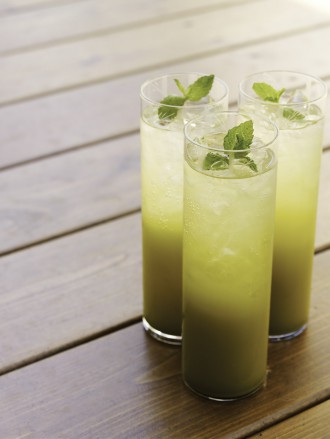 Grassy matcha meets up with fresh mint and citrus in this alcohol-free highball.
2 tsp. powdered matcha green tea
3 oz. hot water
6 mint leaves
5 tsp. fresh lime juice
2 tsp. simple syrup (1:1)
2 lime wedges
Soda water
Tools: heat source, mixing glass, muddler or long-handled spoon
Glass: collins
Garnish: mint sprig
Cover matcha with hot water (about 150 degrees F) and stir well. Pour into an ice-filled glass. In a separate mixing glass, muddle the mint and lime juice with simple syrup, then pour contents into the glass. Squeeze the lime wedges into the drink and top with soda water and additional ice if needed. Stir gently and garnish.
Tip: For a spiked matcha mojito, add 1 ½ oz. light rum, or replace the soda water with sparkling wine.
Anthony Arnold, Remedy Teas, Seattle