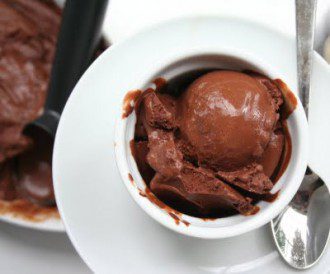 Stouts and chocolate are a natural pair, and this recipe combines the two in a decadent, dairy-free dessert.
1 ½ cups water
½ cup granulated sugar
¾ cup cocoa powder
⅛ tsp. salt
4 oz. good-quality dark chocolate, finely chopped
¾ cup stout
½ tsp. vanilla extract
In a large saucepan over medium-high heat, stir together the water, sugar and salt. Bring to a boil, whisking constantly and boil for 45 seconds.
Remove from heat and stir in the chopped chocolate. Add the vanilla and beer and stir to combine. Transfer to a blender and blend for 15 seconds. Refrigerate for at least 4 hours and up to overnight.
Give the mixture one final quick blend to incorporate, then transfer to an ice cream maker and churn according to manufacturer's direction. Transfer to an air tight container, press plastic wrap flush to the surface and chill for several more hours, or until firm but not hard. Serves 8.
Carolyn Ketchum, Alldayidreamaboutfood.com