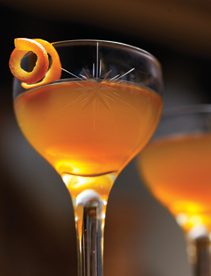 A warming mix of tequila, bourbon and two kinds of bitters make this digestif the perfect way to tuck yourself (and the other 21-and-overs) into bed on this Christmas Eve.
1½ oz. bourbon
¾ oz. reposado tequila
¾ oz. Cherry Heering
2 dashes orange bitters
1 dash Angostura bitters
Tools: mixing glass, barspoon, strainer
Glass: cordial
Garnish: orange twist (optional)
Combine ingredients in a mixing glass with ice and stir until cold. Strain into a glass and garnish. Makes 2 servings.
Tim Stookey, San Francisco