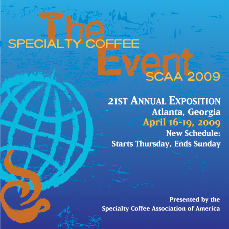 Every spring, coffee pros converge at the annual Specialty Coffee Association of America conference and expo. This year's event takes place April 16–19 in Atlanta, concurrent with the World Barista Championship, where America's Mike Phillips from Intelligentsia Coffee will take on competitors from around the world.
If you're in the coffee industry, you know how valuable a 3-day full-access pass is ($125 to be exact), including informative lectures, show floor access, opening and closing ceremonies, and the barista championship. Well, the folks at Café de El Salvador have generously offered up an all-access pass to one randomly drawn winner who responds to this blog post with an answer to the question: what are you most excited about in the coffee industry today? We reported on some highlights we discovered in our March/April cover story, "Around the World in 20 Cups." Now it's your turn. Simply e-mail us your thoughts (and your full name, the name of company you work for and your mailing address) by March 22 at 11:59 p.m. Pacific Time and we'll notify the winner via email by March 25.
We hope to see you in Atlanta!