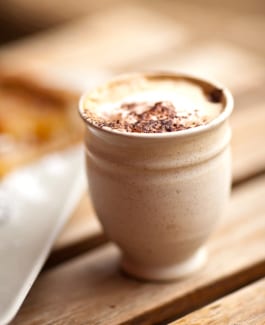 Tony Serrano adapted his childhood hot chocolate into a coffee lover's cocoa with this namesake mocha.
8 oz. whole milk
1 ½ tsp. cocoa powder
½ Tbsp. honey
¼ tsp. chili powder
1 ½ oz. freshly brewed espresso
Combine all ingredients, except espresso in a stainless steel pitcher. Grind, dose, tamp and pull your espresso into a coffee cup. Steam your milk to a velvety consistency while the shot pulls. Pour your mocha milk into the espresso, slowly lifting the crema to the top of the drink. Dust the top with a hint of cocoa and chili powder.
Tony Serrano, Serrano Social Club, Modesto, CA