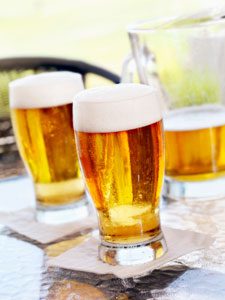 Utterly crisp and refreshing, sometimes nothing can help slake a warm-weather thirst like a frosty pint of pilsner. Bright and snappy thanks to an extended brewing time (pilsners are lagers, not ales) and a traditional combo of noble German hops and malts, pilsners were first brewed in 1842 in what is today's Czech Republic, though today brewers across the globe offer their own takes on the Bohemian-style brew. In our May/June 2012 issue, we highlight eight different pilsners, but as the most popular beer style on the planet, we couldn't stop there—here are six additional versions of the summery suds that we'll be cracking as soon as the warmer weather sets in. 
Avery Joe's Pilsner
4.7% ABV, Boulder, Colorado
A tasty domestic take on the Euro-style lager, this American pilsner is crafted with two varieties of noble German hops and two-row barley malts resulting in a medium-bodied sipper that offers up just the right balance of earthy hop bitterness and sweet bready malts. Plus, it's packaged in cans for ultimate warm-weather portability and convenience.  
Brouwerij Drie Fonteinen Beersel
5.2% ABV, Belgium
We've rarely met a Belgian beer we didn't like, and this pilsner carries on the country's tradition for stellar brews. Named for the Belgian town the Drie Fonteinen brewery calls home, this unpasteurized and unfiltered pilsner is herbal and earthy with notes of vegetal hops, dried stone fruits flavors and just a hint of spice on the finish.
EKU Pils
A super-sessionable German pilsner, this easy-drinking brew offers up subtle hay and fresh-grass aromas, a touch of sweet malt flavors and a clean finish that draws you in for another sip.  
Lagunitas Pils
6.2% ABV, Petaluma, California
A West Coast take on the traditionally European-style brew, this California-bred pilsner gets washed in citrusy hop bitterness, toasty biscuit malts and a hint of honey and sea salt on the finish. 
Mahr's Pilsner
5% ABV, Germany
A longtime favorite among German beer fans, this pils is brewed with two varieties of noble German hops and whole-grain Bavarian malts, and is bottled unpasteurized and unfiltered resulting in a summery quaffer that is as refreshing as it is nuanced. Expect crisp apple aromas, notes of bready, honey-sweetened malts and drying floral hop bitterness on the finish. 
Sierra Nevada Summerfest
5% ABV, Chico, California
Released each April and available until it sells out (typically sometime in late July), this Sierra Nevada seasonal is snappy and refreshing, thanks in part to its liberal dosing of the Saaz hop (a variety traditionally used in pilsner production). Each sip offers zingy carbonation, notes of lemon zest and a slight bitter bite.
Tröegs Sunshine Pils
4.5% ABV, Hershey, Pennsylvania
Pennsylvania brewing brothers Chris and John Trogner got it right when they named this brew. Bright and sunny with a splash of citrus-y flavors and a more assertive hop bite than traditional European-brewed pilsners, this spring and summer seasonal is one we revisit each year with its annual April release.