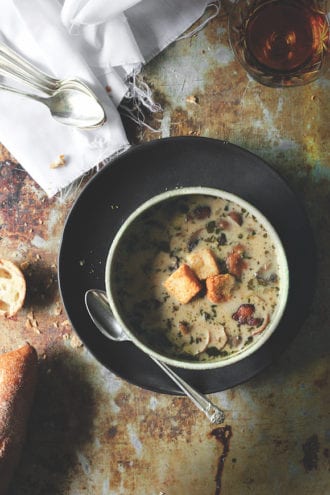 This rich, savory mushroom soup benefits from a good pour of a dry sherry. In her new book, Cooking with Cocktails, Kristy Gardner likens the earthy flavors of the soup to "a delectable bowl of the forest floor"—in the very best way.
5 Tbsp. unsalted butter
3 large shallots, minced
3 garlic cloves, minced
1 lb. fresh mushrooms (button, portobello, oyster, shiitakes, morels or chanterelles are all good), chopped into half-inch pieces
1 cup dry sherry
⅓ cup all-purpose flour
4 cups chicken, beef, or vegetable stock
1 tsp. dried Italian seasoning
2 bay leaves
¼ cup roughly chopped fresh flat-leaf parsley
1 Tbsp. fresh thyme leaves
½ to ¾ cup heavy cream
Coarse sea salt
Freshly ground black pepper
Chopped fresh chives and crusty bread, to garnish
Heat 2 tablespoons of the butter in a large, heavy-based pot over medium heat. When sizzling, add the shallots. Soften for 3 minutes. Stir in the garlic and cook for 1 minute, or until fragrant. Add the mushrooms and cook through, 12 to 15 minutes. If using more delicate mushrooms, such as shiitakes, morels or chanterelles, lessen the cooking time by 5 minutes. Pour in the sherry. Reduce for 2 minutes.
Stir in the remaining 3 tablespoons of butter and the flour and cook for 3 minutes to develop a roux (this will thicken the soup). Whisk in the stock, Italian seasoning, herbs, and 2 teaspoons of salt. Bring to a light boil, then lower the heat to a simmer and cook uncovered for 25 minutes.
Remove from the heat and stir in the cream: If you like your soup creamier, add it all; if you like less cream, only use about ½ cup. Season to taste with salt and pepper.
Reprinted with permission from Cooking with Cocktails by Kristy Gardner. Copyright 2017, Countryman Press.