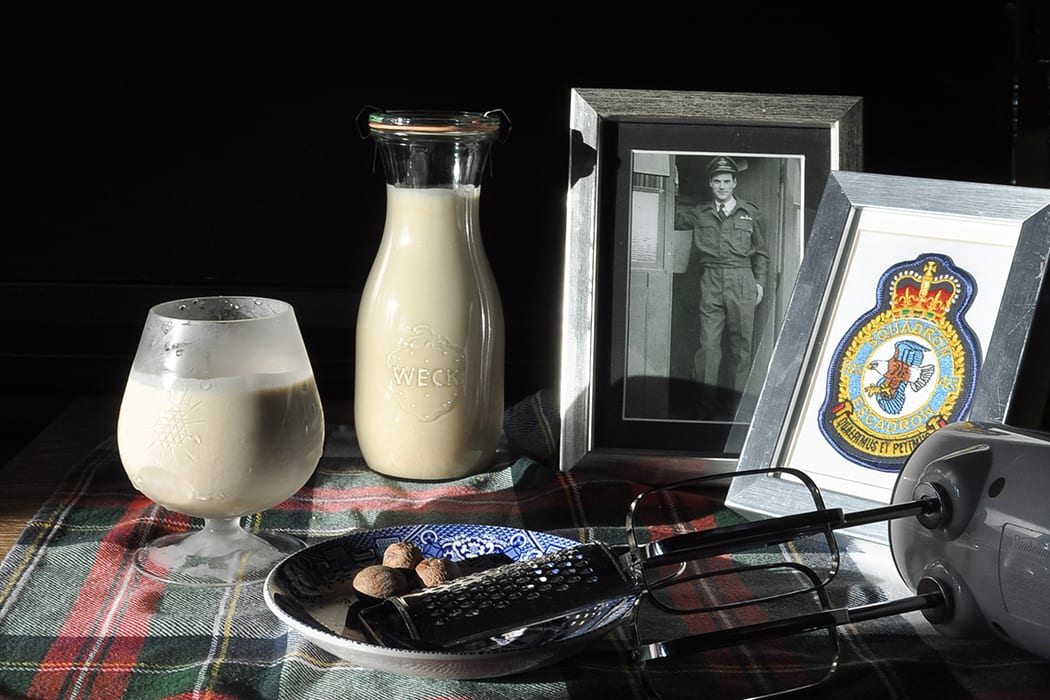 A sickly moan boomed out of the earpiece of my phone.
Could this be a stabbed cow? A tone-deaf whale? A disappointed walrus?
No, the baying noise came from my dad, a retired tech sector executive, on the line from his home in the Sea Ranch, California. He informed me that his terrifying sound was, in fact, a moose call—a whooping wail his father and friends would let out as they raised their annual glass of moose milk during the holiday season. He may have lived half his life in the States, but you'll never really take the Thunder Bay, Ontario, out of him.
I know moose milk—an eggnog-like concoction featuring obscene amounts of hooch, some eggs, milk and other, forgotten ingredients. According to family lore, the call of Bob McDowell's version would summon the neighbors over to the house at Christmastime each year.
The moose call, on the other hand, is a new one on me. "I missed that one growing up in Lawrence Park," I told my dad.
"Oh, right," he said, a bit sadly. My parents divorced when I was a toddler, and I was raised in comfortable uptown Toronto. The ways of the clan McDowell have often felt remote and mysterious to this city kid. I have only visited the northern Ontario town of Thunder Bay once, when I was four. I have never been moose hunting, nor even held a real gun. And you'd be laughed out of the room for suggesting I could have kept up the family tradition of joining the military.
My grandfather's apparently legendary moose milk was another mystery, something my dad and Aunt Kathy had mentioned in passing once or twice. They assumed it was just something the Old Man made at Christmas—his personal twist on eggnog, which he gave a joke name. But moose milk is a tongue-in-cheek tradition of the Canadian military, and the frothy white refreshment remains a calling card of the Canadian armed forces to this day. Canadian veterans say that when they're stationed abroad, foreign service people—Americans, Brits, whoever—hang around the Canadians in the hopes of being served a cup.
There seems to be little doubt my grandfather learned the ways of moose milk during the Second World War. Back then, he was Flying Officer Robert McDowell of the Royal Canadian Air Force's 423 Squadron, piloting Short Sunderlands out of Scotland to hunt German U-boats in the North Atlantic.
As I deepened my search, I discovered moose milk is especially associated with the holidays—Christmas, of course, but also New Year's Day levées, a centuries-old Canadian tradition. On New Year's Day, official organizations including city halls and legion halls throw open their doors to the public and offer free drinks. I've never attended a levée. What kind of masochist leaves the house on New Year's Day? But small-town newspapers make them sound tempting, with little articles promising moose milk will be served when the local legion hall holds its shindig. Here and there these stories quote an older military fellow being coy about the recipe.
Hoping for more information, I called the media hotline of the Canadian equivalent of West Point, the Royal Military College in Kingston, Ontario. History professor and retired major Michael Boire rang back a couple hours later, offering his help as a "Ph.D. in moose milk."
"I would say that everybody in uniform has tasted it at one time or another," said Prof. Boire, who first encountered moose milk as a young man serving in the Canadian Army's Royal Highland Regiment, known as the Black Watch.
In modern times, Prof. Boire said, recipes and techniques vary—different branches of the military may each have their own secrets—but dairy, rum, nutmeg and sugar are typical ingredients. "It's high-propulsion eggnog," he said. "You can dig into this stuff and find yourself in a sorry state very quickly."
A friend of mine who served much more recently in the navy said moose milk was often served as a "last resort" to use up the last of the liquor in the galley. One gets the impression we have entered a decadent chapter in the life of the drink.
Moose milk recipes abound if you go looking online. But which is closest to my grandfather's? It's been a something like a half a century since he performed the ritual. In the 1960s, when my dad and aunt were in their twenties, they lost their father to suicide.
My Aunt Kathy and my dad couldn't agree on most of the details, but they both distinctly recalled him working a bunch of egg yolks with the big Mixmaster and then tossing in whatever liquor was in the house—possibly moonshine, which the milkman would include with his weekly delivery. The batch would vanish at jet speed (moose milk always does, professor Boire confirmed). After brunch, "the Old Man would make Brandy Alexanders," my dad recalled. Those afternoons at the McDowell levée must have been messy.
After getting off the phone with my dad, I took a seat on the couch next to my fiancée Emily—who has enjoyed my own Brandy Alexanders around the holidays as long as we've been together—and recounted the conversation. To my surprise, a few tears rushed to my eyes: For the first time in my life, I felt truly sad that I never got to spend any Christmases watching Bob McDowell make moose milk. I felt a real affinity for the Old Man for the first time, now that I finally had a shared trait to grab onto.
"Doesn't that sound like something I would do?" I said. "Make a big batch of some crazy concoction and invite the whole neighborhood over to drink it?"
"Well," replied Emily, mild concern crossing her face as she contemplated unleashing some new beast. "We have a Mixmaster. We have a neighborhood."
Get the recipe for Adam McDowell's family moose milk here, and read more about his drinking adventures and tips in Drinks: A User's Guide.