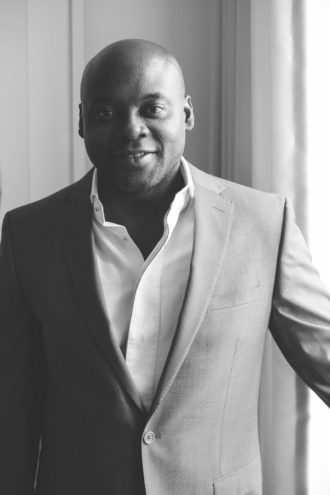 Colin Asare-Appiah swore he would never be a bartender, but at 19, he found himself broke and living in Greece, working at a local bar, and soon after he was returning to his native London to learn about the cocktail craft under Dick Bradsell. By 22, he had launched the London Academy of Bartending with Douglas Ankrah, with the goal of teaching everything he'd learned to local bartenders and drinks companies, and he's dedicated himself to cocktail and spirits education ever since. Through the years he worked with Balancing House/SOHO House, partnered with Jamie Oliver and starred in a TV show on Discovery Channel called Cocktail Kings with Dimitri Lezinska (former Grey Goose Ambassador), and for the past four years he has served as the Senior Portfolio Ambassador for Bacardi. Asare-Appiah recently sat down with Joshua Harris of of The Bon Vivants (and Pig & Punch) to talk about his life, both in and outside the spirits industry.
JH: One of the great rewards of your job is the opportunity to travel around the world. What's your favorite travel destination?
CA: I was surprised how much I fell in love with Bangkok. It's one of the most magical places in the world. The people are so open and hospitable… it draws you in. They are so proud of their culture and their heritage. The food is second to none. It's a kaleidoscope for your senses.
JH: Another great reward that goes hand in hand with this is the opportunity to eat at some amazing restaurants. What's your favorite fine-dining restaurant?
CA: I would recommend everyone go to Eleven Madison Park for a dining experience. It's absolutely spectacular. Before you come in, you're researched. When I operate a place, that's something I will do.
JH: And if you had to pick a restaurant off the beaten path?
CA: Burger and Relish in Ghana. A burger is so far out of the realms of Ghanaian cuisine that it is a real oddity. The culinary culture is not burgers and fries. The owner took months to source the best meat. These burgers are second to none and better than a lot of the burgers I've had here in the US.
JH: Now I've got some rapid-fire questions for you.
JH: Dogs or cats?
CA: Cats.
JH: Early bird or night owl?
CA: Both. 
JH: Coffee or tea?
CA: Tea. 
JH: And finally, football or fútbol?
CA: Soccer.
JH: Mountains or beach?
CA: Beach.
JH: Sparkling or still?
CA: Sparkling.
JH: Forks, chopstick or fingers?
CA: Fingers.
JH: Finally, with all the different opportunities that orbit the drinks business, why has Bacardi chosen to support Pig & Punch?
CA: Something that Pig & Punch does very well is bring people together and give back to the community. That is one of the philosophies that we at Bacardi really appreciate and want to get behind. In our industry we are all about hospitality and we support any opportunity we have to partner with a company that is people-centric. Long gone are the days where we sit down and talk about how our brands are made. Instead, we want to engage people and drink it together.