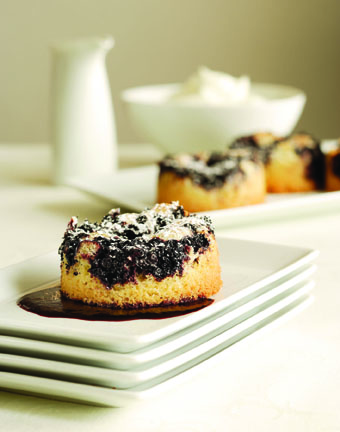 James Beard award-winning chef Vitaly Paley combines wild huckleberries, crème de cassis and a sweet, buttery cake for this standout dessert, which is perfect with coffee or a cordial. If you can't find huckleberries, this recipe works well with any other berry that's in season.
2 cups all-purpose flour
2 tsp. baking powder
½ tsp. salt
¾ cup (1½ sticks) unsalted butter, softened
2 cups sugar
4 large eggs, at room temperature
1 tsp. vanilla extract
2 pints huckleberries (about 4 cups), plus additional berries for garnish
Cassis-huckleberry sauce (see below)
Crème fraîche, for topping
Preheat the oven to 350°F. Butter and flour individual baking dishes or ramekins, or a standard 12-cup muffin tin, or spray with nonstick vegetable spray.
In a bowl, sift together the flour, baking powder, and salt and set aside.
In the bowl of a stand mixer fitted with the paddle attachment, combine the butter and sugar and beat on medium-high speed until the mixture is light and fluffy, about 4 minutes. Add the eggs, one at a time, scraping the sides of the bowl as necessary and combining well after each addition. Add the vanilla, then the flour mixture, and combine on low speed. Divide the batter evenly between the baking dishes or the cups of a muffin tin, filling each one about two-thirds full. Cover the batter with ¼ to ⅓ cup of berries per cake.
Bake the cakes until a skewer inserted in the middle comes out clean, 30 to 40 minutes.
Cassis-Huckleberry Sauce
2 Tbsp. water
½ cup sugar
Grated zest and juice of 1 lemon
Pinch of salt
1 pint huckleberries (about 2 cups)
¼ cup crème de cassis or loganberry liqueur (Paley uses Clear Creek)
In a small, nonreactive saucepan, combine the water, sugar, lemon zest, and salt. Add the huckleberries, bring the mixture to a boil over medium heat, and simmer until the fruit begins to collapse, about 10 minutes.
Pour the cooked berry mixture into a blender. Add the cassis and the lemon juice and liquefy. Strain through a fine mesh strainer into a small container, cover tightly, and refrigerate until ready to use. This sauce can be made up to 2 days in advance.
To serve, invert the warm cakes onto individual plates, top with 2 to 3 tablespoons of sauce, and a dollop of crème fraîche. Makes 12 to 14 individual cakes.
Vitaly Paley, from The Paley's Place Cookbook: Recipes and Stories from the Pacific Northwest (Ten Speed Press 2008).