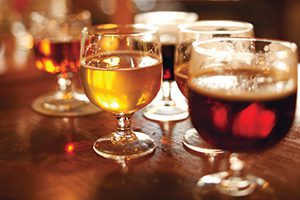 Sure, we may have an embarrassment of riches when it comes to American-made holiday beers, but looking outside of the States, there's no shortage of stellar options. Here are 10 bottles worth adding to your seasonal beer lineup.
Delirium Noël
Melle, Belgium, 10% ABV
Amber in color, with flavors of gingerbread and nutmeg and a frothy mouthfeel make this an accessible beer (besides having the best holiday label around).
Birrificio Le Baladin Noël Vanille
Piozzo, Cuneo, Italy, 9% ABV
Hailing from Italy, this dark Christmas ale smells of dried fruit, chocolate and toffee, while delicate Madagascan vanilla pods lend a softening balance.
Brasserie Dupont Avec Les Bons Voeux 

Leuze-Pipaix, Belgium, 9.5% ABV
Originally brewed as a gift for their best customers, this saison's name translates to best wishes from the brewery. Notes of lemon peel, clove and white pepper along with a secondary bottle fermentation offer loads of depth and complexity.
Affligem Noël
Opwijk, Belgium, 9% ABV
Like a kid anxiously anticipating Santa, Belgian beer enthusiasts wait each year for the release of Affligem Noël. Brewed by monks from an abbey that was founded in 1074, this bottle-conditioned strong ale is a mix of rum-soaked raisins, orange-scented chocolate and Christmas spices. Pleasingly dry with a strong malty backbone, it's assertively festive alongside traditional holiday fare. The 9% alcohol also makes it a good candidate for cellaring.
De Dolle Stille Nacht 
Esen
Diksmuide, Belgium, 12% ABV
Its label may be what first catches your eye, but this Belgian strong ale has plenty going on inside the bottle. Notes of dried apricot, honey-roasted pears and creamy malts mingle with a subtle hint of spice. The high ABV can withstand a few years in the cellar, but it's just as captivating when opened upon its release every December.
De Ranke Père Nöel

Wevelgem, Belgium, 7% ABV

This refreshingly dry ale strikes a balance between complex malts and spicy hops. A bonus is its larger-format availability—all the way up to the three-liter jeroboam.
Fantôme de Noel

Soy, Belgium, 10% ABV

This wintry saison warms to the core with loads of holiday spices and strong dried fruit flavors. Deep and rich with the Belgian style's trademark tang, this brew comes in at a whopping, yet almost imperceptible, 10% ABV.
Samichlaus Barrique
Vorchdorf, Austria, 14% ABV
Among the most widely adored holiday beers, Samichlaus is a Bavarian doppelbock brewed each year on December 6 and allowed to slowly ferment before being bottled and released the following year. Sweet notes of raisins, toffee and plums mingle with loads of warming spice.
Scaldis Noël 

Leuze-Pipaix, Belgium, 12% ABV
Brewed by Brasserie Dubuisson, which has been in operation since the mid-18th century, this holiday is warm and inviting, with flavors of malt, caramel and nuts and a touch of dry spice on the finish. Sip it slightly warmer than fridge-temp to allow all of the flavors to fully shine.
St. Feuillien Speciale 

Le Roeulx, Belgium, 9% ABV

Aged for several months before its annual holiday release, this strong dark ale offers a smooth, full body and festive flavors of raisins, figs, chocolate and cinnamon. Pair it with strong cheeses, bread pudding or roasted duck.