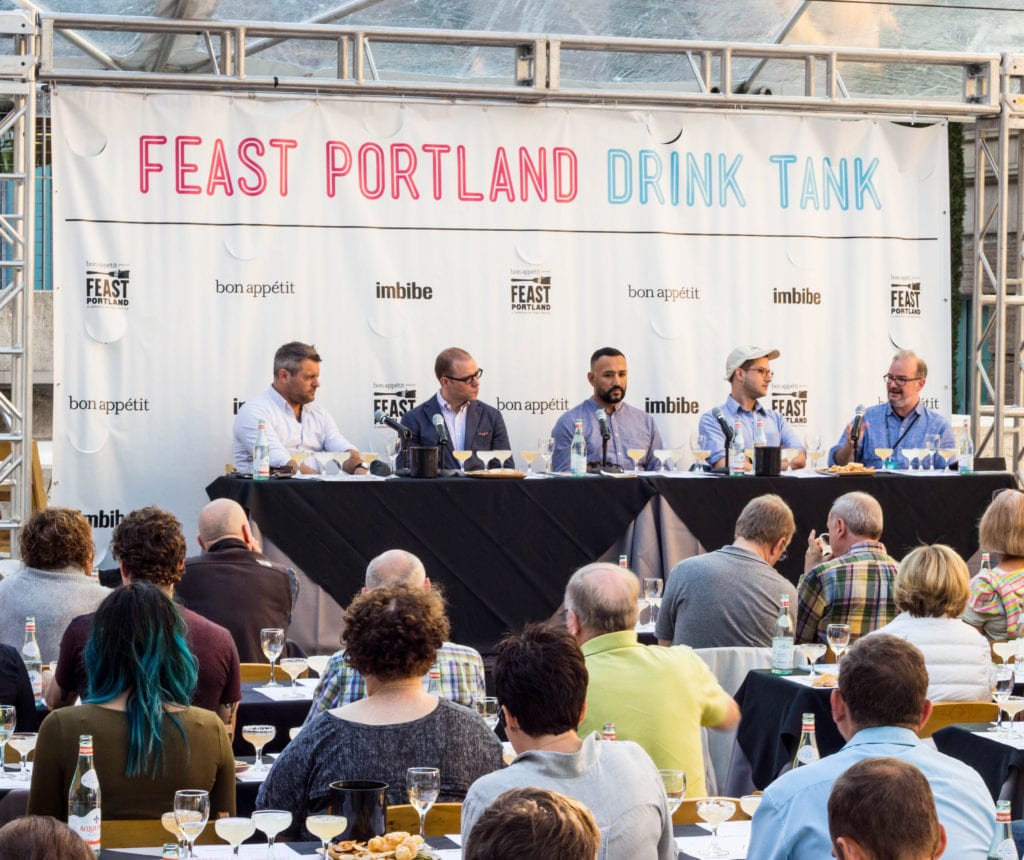 Experience the best of drinks at this year's installment of Drink Tank presented by yours truly at Feast Portland. Once again, you can look forward to a stellar line-up of panels exploring trends in wine, beer and cocktails, and Imbibe Executive Editor Paul Clarke and Contributing Editor Joshua Bernstein will be on hand to lead many of these discussions. It's all happening September 16-17, 2016, at the Evan H. Roberts Sculpture Mall of the Portland Art Museum. Some events have already sold out, so be sure to get your tickets before they're gone!
FRIDAY, SEPTEMBER 16
Meet The Press
Today's cider makers are embracing tradition, heritage fruits and brewing methods to devise dynamic, elegant beverages. Meet the makers behind the movement.
Jeff Alworth, Cider Made Simple (Portland, OR)
Joshua M. Bernstein, Author and Imbibe Contributing Editor (Brooklyn, NY)
Craig Campbell, Tieton Cider Works (Seattle, WA)
Nat West, Reverend Nat's Hard Cider (Portland, OR)
Kevin Zielinski, E.Z. Orchards Cidre (Salem, OR)
GET TICKETS HERE.
Washington Wines on the Rise
Wine aficionado and award-winning writer, Bruce Schoenfeld, leads a panel of trailblazing winemakers and experts on an exploration of the latest and greatest wines from across the mighty Columbia.
Kate Derby Raymond, Spring Valley Vineyard (Woodinville, WA)
Brennon Leighton, B. Leighton Wines (Seattle, WA)
Tony Rynders, Tendril Wine Cellars (Carlton, OR)
Bruce Schoenfeld, Saveur (Boulder, CO)
GET TICKETS HERE.

Aperitifs Ascendant: Understanding Vermouth, Quinquinas and Apertif Wines
Twenty years ago, vermouth was stuck in the doldrums—but today, drinkers are discovering the aperitif experience. Old World standards are mingling with New World newcomers. Find out which bottles to look for and taste some of the most intriguing styles.
Kate Bolton, Maven (Portland, OR)
Paul Clarke, Imbibe (Portland, OR)
Neil Kopplin, Imbue Cellars (Beaverton, OR)
Ryan Magarian, Hamlet (Portland, OR)
Jake Parrott, Haus Alpenz (Bristow, VA)
GET TICKETS HERE.
SATURDAY, SEPTEMBER 17
A Bitter Twist
Rampant bitterness and boozy intensity once defined IPAs, but thanks to newly developed techniques and hop varieties that evoke berries, peaches and mangos, IPAs are turning softer, juicier, and hazier. Join some of America's top brewers and researchers to discover what's driving this bitter twist.
Joshua M. Bernstein, Author and Imbibe Contributing Editor (Brooklyn, NY)
Tyler Brown, Barley Brown's Beer (Baker City, OR)
James Dugan, Great Notion Brewing (Portland, OR)
Ben Edmunds, Breakside Brewery (Milwaukie, OR)
Tom Shellhammer, Oregon State University (Corvallis, OR)
THIS SESSION IS SOLD OUT.

The Day of the Daiquiri: How Rum & Lime Conquered The World
From Havana's bars to JFK's White House to the indignity of the slushy machine, the Daiquiri's had a long and tumultuous history. But today, the Daiquiri is back and better than ever—find out how to make a great one and see how flexible (and forgiving) this classic rum cocktail can be.
Paul Clarke, Imbibe (Portland, OR)
Simon Ford, The 86 Co (Studio City, CA)
Jim Romdall, Rumba (Seattle, WA)
Michael Shea, Rum Club (Portland, OR)
THIS SESSION IS SOLD OUT.