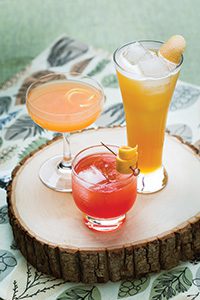 The big, bitter beer known as India Pale Ale, aka IPA, originated nearly two centuries ago when brewers added an overabundance of hops to pale ale, using the hops' natural antimicrobial powers to preserve the beer for the long overseas journey from England to India. The style underwent something of a transformation as it moved westward and American brewers began tinkering with the formula, incorporating domestic hops hybrids and amplifying the beer's nuances. Today, the assertively flavored beer has found a special home among brewers (and beer drinkers) in the Pacific Northwest, who prize the vibrant flavor imparted by local varieties of Cascade hops.
The most sought-after IPAs showcase a bold level of bitterness but are tempered by a moderate amount of fruit character. It's a balancing act that has increasingly caught the eyes of beer-loving bartenders, who are discovering how IPAs can lend unique flavors to cocktails.
In Victoria, B.C., for instance, Katie MacDonald at Clive's Classic Lounge boils the beer into a syrup, which highlights the IPA's distinctive fruity bitterness. Head south down I-5, and you'll find IPAs in a range of cocktails. At the beer-centric Von Trapp's in Seattle, Erik Carlson uses the triple-hopped Tricerahops IPA from Ninkasi Brewing to offset the rounder, sweeter flavors of scotch whisky, pear eau de vie and orgeat in his Roll Pin Shandy. Nearby at Canon in Seattle, Chris Elford pairs the IPA from Portland's Hopworks Urban Brewing with blanco tequila and grapefruit-forward Campari in his End of Days cocktail. And just south in Portland, bartender and avid bicycle racer Freddy Tincher at Clyde Common uses the citrusy hops element of Pfriem Family Brewing's IPA to create his version of any good cyclist's summer beverage choice, the Radler, in his Roadler Punch.
Bartenders and beer drinkers still love their pints of unadorned IPAs, but Elford says the beer's appeal translates well in the cocktail shaker. "For beer people, it can be hard to view our beloved beverage as a cocktail ingredient," he says, but as he's proving himself, Northwest IPAs make the leap to the shaker much easier.