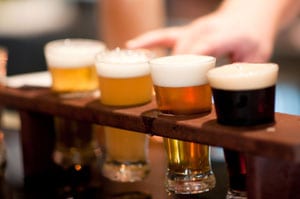 The original lawnmower beers—thanks to an easy-drinking freshness that pairs perfectly with these dog days of summer—lagers first found favor among 16th-century Bavarians. Crafted with a different yeast than ales, lagers ferment slowly and at cooler temperatures, lending a refreshing crispness to the overall brew. And while Europeans have long lifted pint after lagery pint to their lips, domestic drinkers resisted (you can blame lager's long association with mass-produced macrobrews). But change is afoot, with a growing number of U.S. brewers now introducing local lagers to their lineups.
Brooklyn Lager
Brooklyn, NY 5.2% ABV
This Brooklyn original combines traditional Vienna lager stylings with a dry-hop twist for a smooth, aromatic palate-pleaser.
Evil Twin Low Life Pilsner
Brooklyn, NY 5.5% ABV
Lucky for us, renegade brewer (and Imbibe 75 alum) Jeppe Jarnit-Bjergso traded teaching in Copenhagen for brewing beer on this side of the Atlantic. In four short years, nearly 100 brews have passed through his lineup, including this quaffable take on big-brand pilsners. Expect hop-forward herbaceousness and notes of toasted wheat, all surfing on a wave of zippy carbonation.
Full Sail LTD Lager
Hood River, OR varying ABVs
Every summer, Full Sail releases the latest limited version in its ongoing lager series. Each recipe is different from the last, so get a taste of this year's version before it's gone for good.
Golden Road 329 Lager
Los Angeles, CA 4.8% ABV
Cashing in on the SoCal sunshine, this 329 Lager (named for the number of sunny days Los Angeles averages per year) balances a trio of hops with full-bodied malts. Expect easy-drinking flavors that teeter between piney citrus and rye crackers, and a crisp, clean finish.
Kona Brewing Longboard Lager
Kailua-Kona, HI 4.6% ABV
Ride the wave of cool lager refreshment with this Big Island-inspired beer from Kona Brewing Company. Lagered for more than a month and brewed with traditional German and Czech hops (along with a dose of Mt. Hood hops for a slight spicy kick), this lager is an easy-drinking favorite among those in Hawaii and on the mainland alike.
Magic Hat Dream Machine India Pale Lager
South Burlington, VT 5.7% ABV
Love an IPA? Then you've got to give an IPL a try. The latest brew to hit Vermont-based Magic Hat's year round lineup, this India pale lager combines the hop-forward pop of an IPA with the easy sessionability and crispness of a craft lager. Best get the picnic basket ready.
New Belgium Shift Pale Lager
Fort Collins, CO 5% ABV
A bouquet of hops—including the grapefruit-scented Nelson Sauvin—zip across the palate, while a subtle assortment of malts add both body and balance.
Orlison Havanüther Light Pilsner
Airway Heights, WA 4.1% ABV
Nary an ale crosses the kegs at this Washington State brewery. Instead, lagers of all sorts (we're talking everything from a classic pale lager to an India pale lager to even a stout lager) fill the fermenters. This time of year, we're particularly keen on the brewery's aptly named Havanüther Light Pilsner, which, clocking in at a mere 4.1% ABV, makes it an ideal summery sessioner.
Sixpoint The Crisp
Brooklyn, NY 5.4% ABV
Formerly called Sehr Crisp (very crisp, in German), this light but flavorful Noble-hopped Brooklyn offering got a facelift last summer—it's now packaged in picnic-ready tallboy cans.