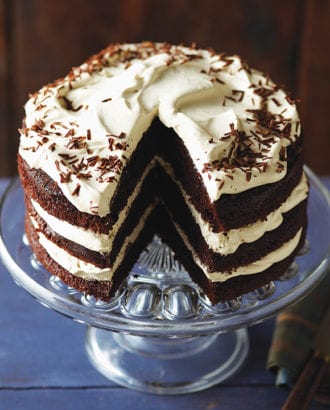 The folks at boutique bakery LOLA'S aptly describe this combination of scotch and chocolate as a match made in heaven. The rich layers of cake are topped by dollops of pillowy, lightly sweetened whisky cream—but did you need any convincing beyond "chocolate" and "whisky"?
4 cups all-purpose flour
2 cups granulated sugar
¾ cup unsweetened cocoa powder
1½ tsp. baking powder
1½ tsp. baking soda
½ tsp. kosher salt
2 eggs
1 cup whole milk
½ cup vegetable oil
1 tsp. vanilla extract
1 cup brewed hot coffee
1 Tbsp. Scotch whisky

Whisky Cream
1 Tbsp. instant espresso granules
3 Tbsp. Scotch whisky
3 cups heavy cream
3 Tbsp. light brown sugar
Dark chocolate shavings, to decorate
Preheat the oven to 350 degrees F. Prepare three 9-inch round, springform cake pans by greasing the insides and lining with parchment paper.
Place the flour, sugar, cocoa, baking powder, baking soda and salt into the bowl of a stand mixer fitted with a whisk attachment (or use a hand-held electric whisk and large mixing bowl) and beat on low speed until blended.
Add the eggs, milk, oil and vanilla and mix at low speed, scraping down the sides of the bowl occasionally, until the mixture is smooth. With the mixer running, gradually add the hot coffee and whisky, mixing at low speed just until combined. The batter will be quite thin.
Divide the batter equally between the prepared pans and bake in the preheated oven for 25-30 minutes or until well-risen and a skewer inserted into the center of the cake comes out clean. Let the cakes cool completely in the pans before turning out.
To make the whisky cream, put the espresso granules and whisky in a bowl and stir together until completely dissolved. Add to a large mixing bowl with the cream and brown sugar. Whisk together for approximately 2 minutes until soft peaks form.
Place one layer of cake onto a serving plate and spread one-third of the whipped cream on top, leaving a ½-inch border. Repeat with the second layer, then put the top layer in place and spread the remaining whipped cream out to the edge. Top with the chocolate and serve.
Reprinted with permission from LOLA'S: A Cake Journey Around the World. Copyright 2017, Ryland Peters & Small.
---
Did you enjoy this recipe? Sign up for our newsletter and get our favorite drink recipes of the moment in your inbox every month.