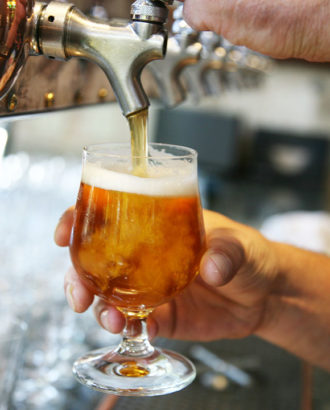 With Munich's famed Oktoberfest continuing through October 5, we're eager to join the festivities with copper-colored Oktoberfest (aka märzen) beers. A German-style lager traditionally brewed in March and laid to rest in cool cellars until fall, Oktoberfest beers are malty, medium-bodied and an ideal match to the rich flavors of the season. And thankfully you don't need to dig out your lederhosen or book a transatlantic flight to partake—here are a few of the best Oktoberfest beers to drink without suffering jetlag.
Avery The Kaiser
Boulder, CO, 9.3% ABV
At almost twice the strength of traditional märzenbiers, Avery's The Kaiser sports a gorgeous copper hue with notes of caramel and a wallop of floral hops. It's the perfect partner for rich soups and roasted chicken.
Ayinger Oktoberfest Märzen
Aying, Germany, 5.6% ABV
Märzens are known for their slightly sweet, malty character, and this classic from Bavarian brewer Ayinger doesn't disappoint. Its rich color is matched by its full body, with a slightly drying finish that makes it a great match for fall fare like sausages and roasted meats.
Brooklyn Oktoberfest
Brooklyn, N.Y., 5.5% ABV
Brewed in traditional style with only German hops and malts, this award-winning Oktoberfest carries the banner of a beer tradition that goes all the way back to Prince Ludwig of Bavaria's day. The beer's toasty malts and crisp finish are great paired with fall stews and end-of-the-summer grilled brats.
Flying Dog Dogtoberfest Marzen
Frederick, MD, 5.6% ABV
Maryland brewery Flying Dog wanted to get as close to Munich as possible with their märzen, brewing it entirely with ingredients imported from Germany. The results offer a medium body and deliciously malty flavor, and a smooth, toasty finish.
Great Lakes Brewing Co. Oktoberfest 
Cleveland, Ohio, 6.5%
A crisp framework defines this clean, slightly spicy märzen from Ohio's Great Lakes Brewing. Bonus: if you make it out to the brewpub, try the barley pretzels made with spent grains from this beer's production cycle.
Left Hand Brewing Company Oktoberfest
Longmont, Colorado, 6.6% ABV
True to its märzenbier style, this beer is brewed in late spring and allowed to rest before its fall release. Plenty of biscuity malts fill the first sip, which evolved into a spicy, dry finish thanks to heaps of CTZ and Hallertau Mittelfrüh hops.
Paulaner Oktoberfest-Märzen
Munich, Germany, 6% ABV
More than a million pints of this beer are poured during Munich's Oktoberfest, making it a palate pilgrimage for any true fan of the classic style. Pick up a bottle for balanced notes of sweet caramel, bread and a slight hop bitterness on the finish—this is one highly sessionable brew.
Sierra Nevada Brewing Company Oktoberfest
Chico, California, 6% ABV
Born out of a unique collaboration between Sierra Nevada Brewing Co. and Germany's Brauhaus Riegele, this brand new release hits all the right marks. The crisp amber-hued brew boasts a bold, evolving spectrum of chewy grains in the flavor, with a balanced body and quick punch of bitterness on the finish.
Victory Brewing Company Festbier
Downingtown, PA, 5.6% ABV
As its name suggests, this is one celebratory beer. Comprised of nearly all-German ingredients, this brew offers sweet malt aromas, a layered mid-palate and a dry, nutty finish. And lucky for local fans who can keep the party going all year long, since the Festbier is on draught year-round in Victory's Pennsylvania taproom.
Westbrook Brewing Co. Märzenbier 
Mount Pleasant, SC, 6% ABV
Pouring clear and crisp with a rusty golden sheen, this medium-bodied brew has a cracker-like backbone with hints of toffee and a wave of aromatics from the hops. At 6% ABV, it falls squarely within the profile of a traditional märzen.