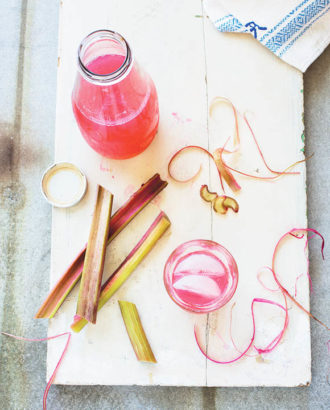 In the book Fire + Ice: Classic Nordic Cooking, author Darra Goldstein says "this drink belongs to the family of summer refreshers found throughout the Nordic countries, with elderflower, black currant and raspberry among the most popular flavors." She mixes the rhubarb syrup with three parts water for a subtle flavor, but encourages experimentation to find your favorite balance.
3 lbs. rhubarb (about 10 large stalks)
3 cups water
3 cups sugar
2 vanilla beans (unsplit)
Sparkling or still water
Trim the ends of the rhubarb and cut the stalks into ½-inch slices. You should have about 12 cups of sliced rhubarb. Place the rhubarb in a saucepan with the water, sugar and vanilla beans. Bring to a boil, then cook at a low boil, uncovered, for 10 minutes. Set aside to cool to room temperature. When the mixture has cooled, discard the vanilla beans. Strain the rhubarb and juices through a fine-mesh sieve into a bowl, pressing down gently on the fruit. (The poached fruit can be refrigerated to enjoy later; it's wonderful when drizzled with cream.) You should end up with 2 cups of syrup. The syrup will keep for at least a week in the refrigerator.
To make the refresher, mix 1 part rhubarb syrup with 3 parts water (or use a different ratio, to taste). Serve over ice.
Reprinted with permission from Fire + Ice: Classic Nordic Cooking by Darra Goldstein, copyright 2015, published by Ten Speed Press, an imprint of Penguin Random House LLC.