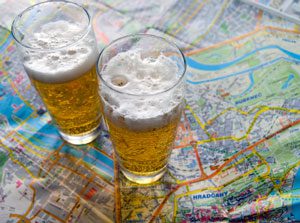 In our Sept/Oct 2011 issue, we uncover some of the most interesting, surprising and otherwise mysterious stories from the beer world. Among the list were some rare or little-known beers that you'd have to go out of your way to find. Would you hop the Atlantic for the latest BrewDog release? Maybe not, but a beer lover can dream. However, if you do happen to be heading overseas anytime soon, here are 10 beers worth tracking down.
8 Wired Saison Sauvin
Blenheim, Marlborough, New Zealand
This dialed up saison is loaded with Nelson Sauvin hops—a New Zealand specialty—for a zingier New World take on the funky French farmhouse style.
Birrificio Italiano Extra Hop
Lurago Marinone, Lombardy, Italy
This unfiltered German-style pilsner is produced once or twice a year, usually in the spring, with fresh Bavarian yeast and aromatic Hallertauer and Saaz hops, then barrel-matured for clarity.
BrewDog Abstrakt
Fraserburgh, Aberdeenshire, Scotland
Recent offerings from BrewDog's limited-edition, bottle-conditioned Abstrakt series include an imperial stout brewed with coffee, cacao and chili, and an imperial ale aged over two years in whisky casks with raspberries and strawberries.
Dark Star American Pale Ale
Partridge Green, West Sussex, England
Funny enough, you'll have to go to England to taste this American Pale Ale. Cascade and Centennial hops and a U.S.-born yeast give this beer a character that will be mighty familiar to Yankee tourists.
Little Creatures Single Batch Brown Ale
Fremantle, Western Australia
Brown ale may have been born in London, but a quartet of Aussie hops—Tasmanian Hallertau, Topaz, Galaxy and Cascade—make this wonder from Down Under unmistakably local.
Maui Imperial Coconut Porter
Lahaina, Maui, Hawaii
Head to Maui Brewing's Lahaina brewpub for a pint of this local favorite. A stronger, draught-only version of the brewery's popular canned Coconut Porter, its matured with toasted coconut and cacao nibs.
Minoh W-IPA
Minoh, Osaka, Japan
Score a taste of one of Japan's favorite double IPAs at Minoh Beer's Osaka brewpub, Beer Belly. Brewed by sisters Kaori and Mayuko Ohshita, this flagship Minoh beer won a gold medal at Japan's International Beer Competition in 2008 and has been a national favorite ever since.
Närke Cask-Conditioned Stormaktsporter
Örebro, Närke, Sweden
Even if you make the trek to Sweden, you might not be able to get a taste of this feverishly sought-after imperial stout. This brewery's star is rising fast, and even the original, bottled version of Stormaktsporter is in low supply.
Nøgne Ø AkuAku Lemongrass Ale
Grimstad, Norway
This exotic pale ale is specially brewed for the AkuAku tiki bar in Oslo, Norway, but it's occasionally found on tap at other regional bars and beer festivals.
Thornbridge Browne
Bakewell, Derbyshire, England
Get thee to Derbyshire for a taste of this juicy brown ale, hopped exclusively with Australia's high-alpha Stella variety and available only on draught.
TAGS: {cptags}