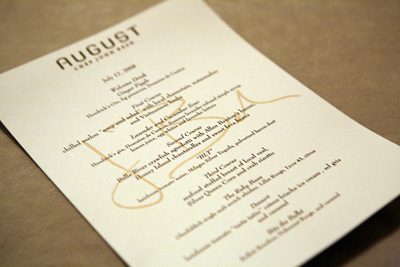 Tales of the Cocktail will be the place to be for cocktail enthusiasts the week of July 20–24 in New Orleans, and once again, we're excited to sponsor the Spirited Dinner® Series. On Thursday, July 21, chefs from 25 of the best restaurants around New Orleans will pair up with some of the country's most talented bartenders, spirits experts and authors for an unforgettable drinking and dining experience. This year's dinners feature a range of exciting themes and flavors. Here's a sneak peek of some of the dinners you can look forward to enjoying, and we invite you to join us on July 21, but get your tickets soon, as these seats always sell out fast! Click here for more details on menus, pricing and tickets.
a Mano

Bar consultants Tad Carducci and Paul Tanguay (aka Tippling Brothers) will be pairing up with chef Joshua Smith for a Creole feast. Guests will explore the rich dining heritage of New Orleans through timeless and modern cocktails featuring spirits from the Classic & Vintage Artisanal Spirits.
American Sector

The theme of this dinner is the American spirit. With a menu of cocktails featuring Texas's own Tito's Handmade Vodka, bartender Rocky Yeh and chef Todd Pulsinelli will explore uniquely American ideas and innovations and celebrate the kind of creative people who keep this country moving forward.
Arnaud's—SOLD OUT

Allen Katz and Chris Patino are pairing up with chef Tommy DiGiovanni for a traditional southern-themed "Meet the Parents" dinner celebrating the lives of the most supportive and involved parents in the cocktail community.
Boucherie—SOLD OUT
Jimmy Russell, Master Distiller of Wild Turkey Bourbon, will be your special host at this dinner influenced by the foods and drink of the South. Bourbon will be flowing, and whether you're tasting one of Russell's favorites on the rocks or trying a cocktail created by mixologist Franky Marshall, you'll feel like a true Southerner by the end of the night. Chef Nathanial Zimet will present a four-course dinner influenced by America's native spirit, including a Creole twist on Southern cuisine.
Bourbon House—SOLD OUT
Bridget Albert and Jeffrey Morgenthaler are teaming up with chef Darin Nesbit for a punch-themed dinner that will explore the origins of punch with a variety of bases from the modern era.
Cafe Adelaide—SOLD OUT
Cocktail expert Robert Hess and world-renowned bartender Audrey Saunders will be pairing up with chef Christopher Lusk for an evening of classic New Orleans food and cocktails.
Coquette—SOLD OUT
This dinner will focus on cocktail and food recipes highlighting herbs and flowers. When Victorians wanted to send secret messages to their friends, loved ones or even foes, they used the language of herbs and flowers to convey their sentiments. Guests will learn about the meaning of herbs and flowers and how to send their own special meanings—all while enjoying an amazing spread of dinner and drinks.
Dickie Brennan's Steakhouse—SOLD OUT
Dominique's on Magazine—SOLD OUT

Led by bartenders Kimberly Patton-Bragg, Misty Kalkofen and Phil Ward, this dinner will showcase the spirits of Rob and Ron Cooper. Known as the artistic agave ambassador to the world, Ron Cooper is founder of Del Maguey Mezcal, while Rob Cooper is the reviver of spirits past and creator of new classics, such as Creme Yvette and St. Germain. Paired with incredible cocktails, chef Dominique Macquet will blend together the flavors of Africa, Asia, France and New Orleans in a celebration culinary expression.
Eiffel Society
Enjoy an extraordinary five-course pairing of artisan spirits with classic French cuisine. All of the spirits and liqueurs will be un-aged and served either straight at room temperature or over ice.
Emeril's Delmonico—SOLD OUT
Whiskey is getting a revamp. From Tennessee to Japan, whiskey distilleries around the world are recrafting their distilling and aging processes. Max Solano will be paring innovative whiskey-based cocktails with Emeril Lagasse's contemporary New Orleans cuisine for great evening of drink and dining.
Feast
This five-course dinner will pair chef James Silk's rustic European fare with cocktails of Jackson Cannon from Boston's Eastern. Knight and Cannon will celebrate the flavors of Italy, France, Spain and England using spirits from The Anchor Distilling Company portfolio of artisan European spirits producers.
GW Fins—SOLD OUT
This dinner aims to prove West Coast domination in the bar world, while giving the East Coast a chance to respond. Each round will feature two half-sized cocktails paired with each course with one cocktail from a premier East Coast bartender and one from a West Coaster. Ted Munat and his Left Coast leanings will lead guests through the dinner and present a lighthearted and fun take on the debate over East vs. West Coast.
Iris
Bartenders Todd Richman, Mark Stoddard and Spencer Warren will create some otherworldly concoctions using the best of the Sidney Frank portfolio, including Michael Collins Irish Whiskey, Barenjager Honey Liqueur, Jagermeister, Gekkeikan Sake and American Harvest Organic Vodka.
La Cote Brasserie—SOLD OUT
Join Fred Noe, 7th-generation bourbon distiller, as he introduces the newest premium member of the Jim Bam family: Jim Beam Devil's Cut. Noe will be temaing up with whiskey professor Bernie Lubbers and executive chef Chuck Subra in this bourbon-themed dinner and tasting.
MiLa
Gin is the word at this dinner led by chefs Allison Vines-Rushing and Slade Rushing and cocktalian Alex Ott.
Rambla—SOLD OUT
Haus Alpenz sponsors an evening with chef Phillip Lopez, recently voted Louisiana Cooking's "Chef to Watch" 2011. A welcome punch kicks off eight courses of modern American cuisine paired with cocktails by bartenders Rhiannon Enlil and Maksym Pazuniak, exploring the full dynamic profile of spirits for the "adventurous palate."
Red Fish Grill—SOLD OUT
New Orleans offers some of the best and most unique music in the world and people travel to the city from all over the world just to see some of it live. This dinner aims to give guests a unique chance to get up close and personal with local musicians and some of the great things New Orleans has to offer—the music, the characters, the seafood and, of course, the Southern Comfort cocktails.
Restaurant August—SOLD OUT
Restaurant Ste. Marie—SOLD OUT
With a veritable renaissance of gin taking place over the last few years, San Francisco bartender Scott Beattie will celebrate classic gin cocktails paired with amazing seafood fare prepared by chef Chris Foster. Ginthusiasts and Ginnocents alike will want to explore this delicious gin adventure.
Rio Mar—SOLD OUT
With chefs Adolfo Garcia and Frank Stitt and rum authorities Wayne Curtis and Martin Cate, this dinner will mix world-class culinary talents with foremost rum experts. Guests will enjoy a specially made welcome cocktail along with with pre-dinner tapas, followed by courses paired with rum cocktails. The evening will feature three fine rums from Panama and an aged rum from Puerto Rico new to the U.S. market—all of which guests will be able to try during a blind tasting.
Sylvain—SOLD OUT
Hosted by the always entertaining Charlotter Voisey and Gina Chersevani, this dinner will follow the story of the Pistoulet, which is a fable about a house in southern France where people go to stay and the owners make magic in food happen with the help of love.
The Grill Room—SOLD OUT
This whiskey-infused dinner led by Jonathan Pogash and Hal Wolin will feature cocktails made with Irish, Canadian, Scotch and American whiskies paired with everything from seared tuna to braised pork to grilled elk.
The Pelican Club—SOLD OUT
Famed New York bartender Jim Meehan will lead guests on a voyage of discovering the world of rum. Meehan and bartender Mike Ryan are collaborating with checf Richard Hughes for an evening of rum-based cocktails paired with everything from Caribbean lobster to Cuban shrimp soup.
Tujagues—SOLD OUT
Join award-winning cocktail historian David Wondrich, gin expert Simon Ford and guest chef Corwin Cave for a traditional New York City "beefsteak," a 19th-century sporting life institution where men and women came together to eat steak, drink and toast their fellowship. In traditional beefsteak fashion, no utensils will be supplied. "It ain't a beefsteak unless you get grease on yer ears," as they used to say. (You will be provided with the traditional protective gear in the form of a butcher's apron and hat.)