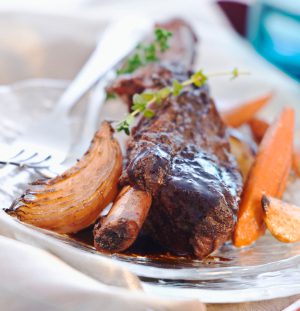 A bottle of Zinfandel amps up the flavor of these melt-in-your-mouth ribs from Jonathon Alsop's Wine Lover's Devotional. Alsop recommends using a high-alcohol California Zin (look for a bottle that clocks in at 15%) to highlight the fruit-and-spice typical of this wine style.
2 Tbsp. olive oil
4 boneless short ribs of beef (about 2 lbs.)
1 medium onion, diced
2 carrots, diced
2 celery stalks, diced
4 garlic cloves, peeled
2 Tbsp. rosemary, fresh
1 can Italian plum tomatoes, drained
½ bottle (375 ml.) Zinfandel
¼ cup fresh flat-leaf parsley or thyme
Preheat  oven to 400 degrees F.
On top of the stove, warm the olive oil in a large Dutch oven (or other heavy baking dish with a lid) over medium-high heat. Salt and pepper the short ribs, brown them on both sides in the olive oil, and remove to another plate. Add the onion, carrots, celery, garlic and rosemary. Brown for 5 minutes, stirring occasionally. Return the short ribs to the pot, add the tomatoes and wine, reduce the heat to medium, and cover.
Cook on top of the stove until the ingredients bubble nicely, then put the dish in the oven. Immediately turn the heat down to 275 degrees F and cook for 4 to 6 hours. Serve over polenta, risotto or your favorite pasta. Garnish with fresh parsley or thyme.
Serves 4.
Jonathon Alsop, Wine Lover's Devotional: 365 Days of Knowledge, Advice, and Lore for the Ardent Aficionado (Quarry Books, 2010)