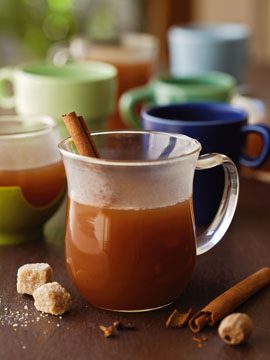 It's time to grab the snuggie and warm up with a round of winter cocktails. Fighting off the cold weather with everything from espresso to Cognac, these winter warmers are the perfect way to keep your spirits high when the mercury's low.

The Apple of Eden
Apple brandy mixes with earthy Cynar and dry sherry for a warming effect that will keep you cozy through the night.
Café de la Mañana
Shake off the shivers by adding a splash of Jaliscan sunshine in your coffee. The agave nectar whipped cream is good enough to eat with a spoon.
Cognac Stinger
Cognac may be the quintessential cold-weather sipper, and with a little crème de menthe, you've got the perfect wintertime tingler.
Comfort Coffee
Its name says it all—you're sure to find a taste of winter relief with this blend of bourbon, spice syrup and French-pressed coffee.
Hot Rye Bijou
Keep seasonal sniffles at bay with this comforting combo of rye, Chartreuse and sweet vermouth.
Maple Sangree
It may be iced, but this cocktail with blanket you in the warming flavors of maple, bourbon and apple brandy.
Phoenix Down
Fresh sage and green Chartreuse offer an herbaceous twist on a classic hot toddy.
Rittenhouse Wassail Punch (pictured)
Keep a batch of this warm punch on the stove throughout winter, and you'll have plenty of visitors all season long.
Spiced Rum Toddy
This toddy offer a double dose of spiced rum for extra warmth.
The St. Elizabeth
There's definitely something saintly about this combo of espresso, bourbon and five-spice syrup.
Sugarplum Brandy Cider
Kick off your snowshoes and warm up with this plum-y twist on a mulled, fruity classic.
Winter Julep
Who says juleps are only for Derby season? Combine bourbon with brown sugar syrup and a splash of peppermint tea for this delicious and simple winter warmer.